Please forgive the recent radio silence; our BFFs came to visit us in Bali for two weeks, and we all took a little vacation from our responsibilities. Yes, you heard us – our tough responsibilities! On a whim, the four of us decided to take a boat out to Gili Air, a small island off the small Indonesian island of Lombok. If you ever get a chance to get over to that part of the world, and are looking for the picture-perfect tropical escape, look no further. One of three islands, Gili Air is quieter than Gili Trawangan (also known as Gili T, party-central) but more happening than Gili Meno (or Honeymoon island…) – in short, like Goldilocks, we found the island that was just right!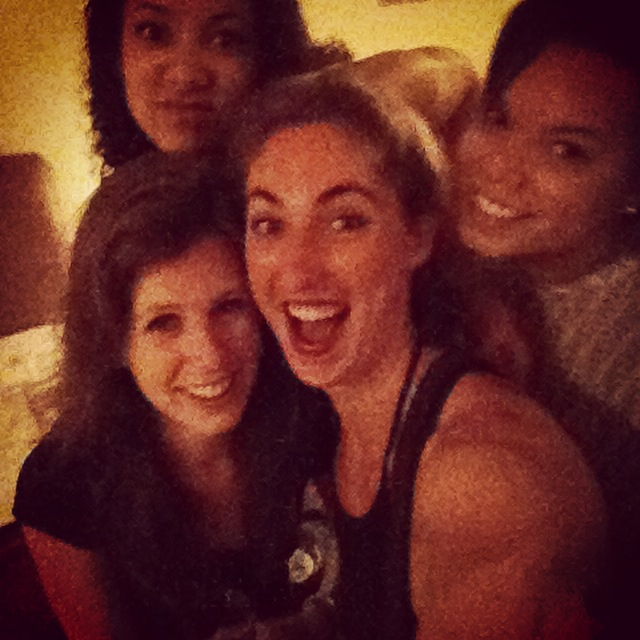 So happy to be reunited! This was taken in Kuta – NEVER GO THERE – before we made the wise decision to hightail it out to Gili. Seriously, don't bother with Kuta unless you enjoy creepy Balinese men showing you pornography on the street and trashy Australians displaying shocking behavior in the club.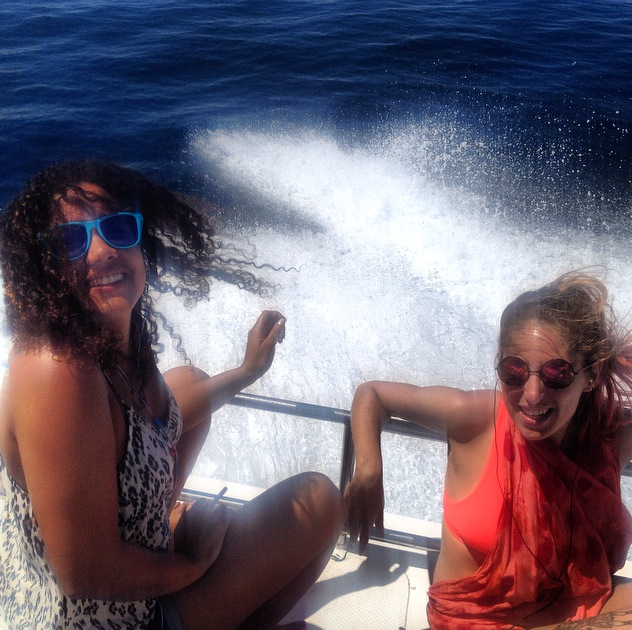 We were able to snag the few available seats on the top of the boat out to Gili. The ride is about 1.5 hours and offers plenty of dolphin viewing free of charge! 
First sight of the pristine, quiet coastline.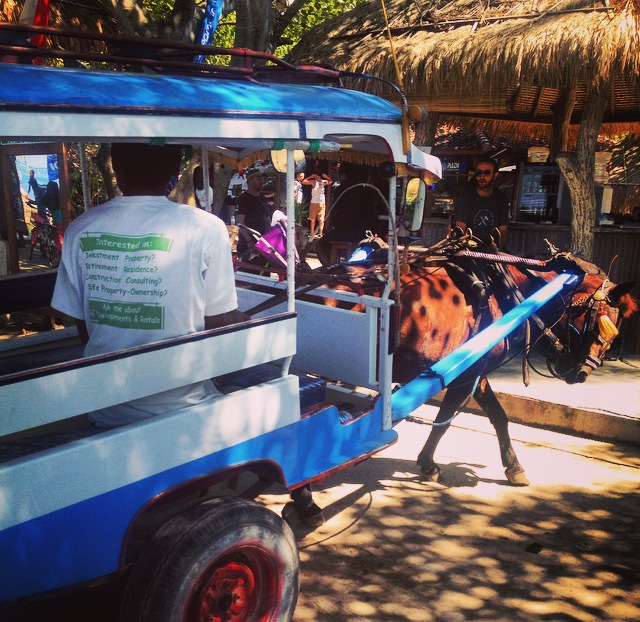 There are no motorized vehicles on Gili Air, so if you need a ride you can hop one of these horse and buggies. Mainly people bike or walk everywhere – the island only has a few dirt roads that run along the length of it, and it would take about two hours to walk the entire circumference.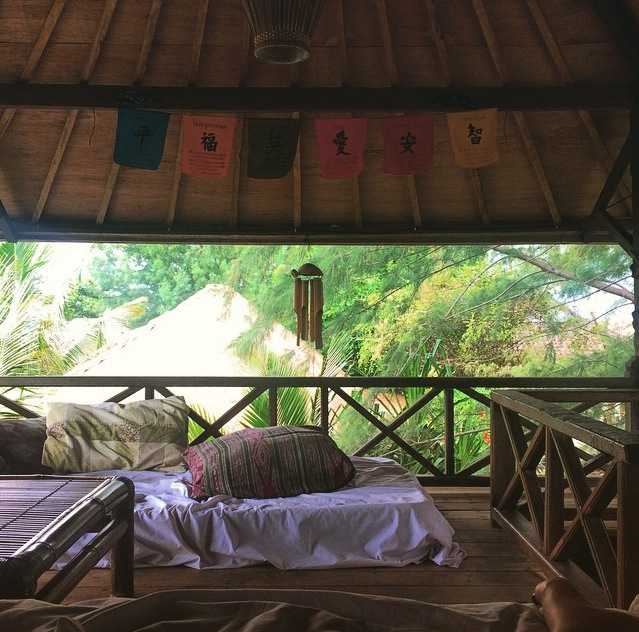 We stayed at Ali Baba hotel first, which had terrible food but was right on the beach, and our room was wonderful – a bungalow that had one double bed downstairs in the air-conditioned room, and one upstairs in this treehouse.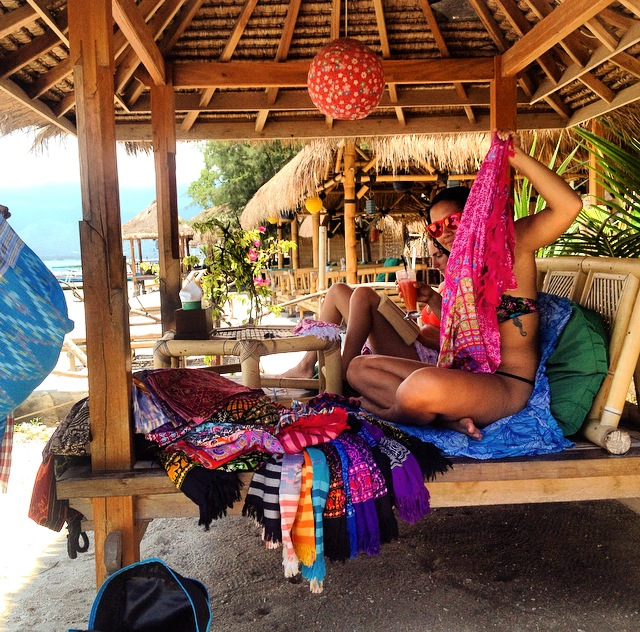 Buying some sarongs on Ali Baba's stretch of beach.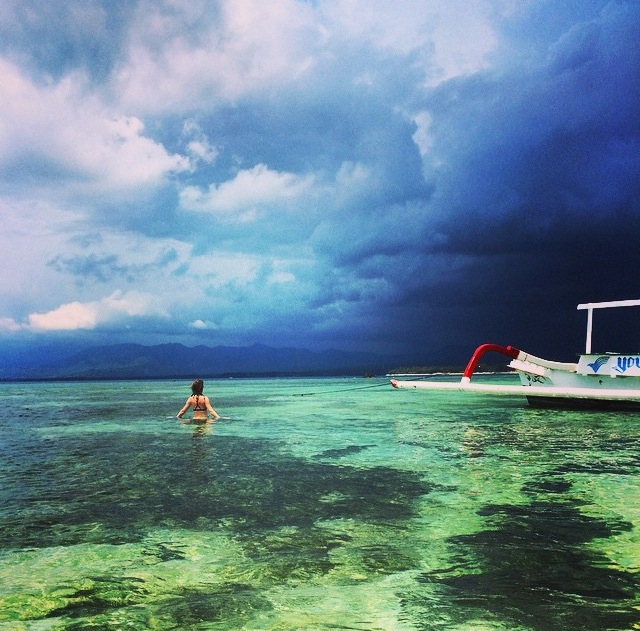 For a few days in a row we watched dark storm clouds gather over the island of Lombok, and slowly move towards Gili…and then stop somewhere in the strait between the islands and retreat. Just like a real paradise – the rain couldn't touch it.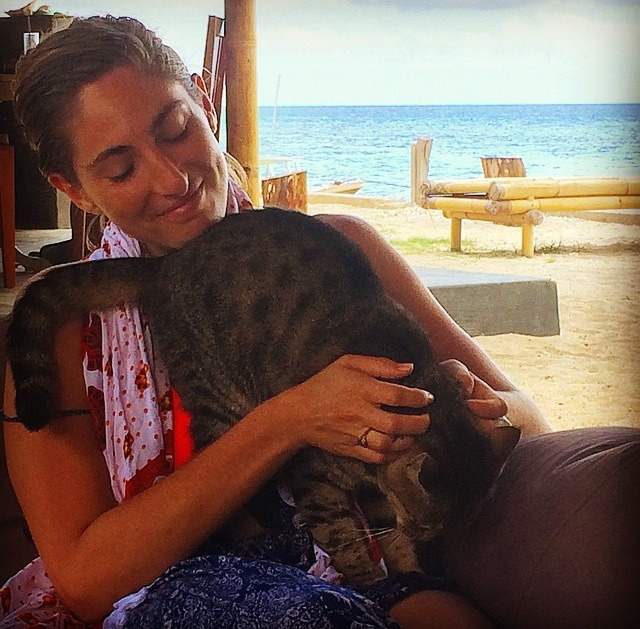 The dive center down the road had great food, early morning yoga, interesting people, and most importantly – cats. We spent a lot of time there.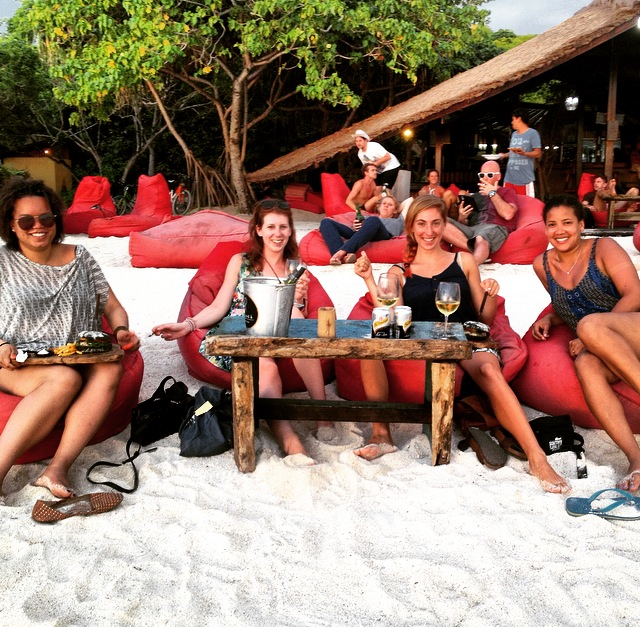 Our yoga instructor, Jess (a girl from the Upper West Side who had moved to Bali for training and never went home), recommended Mowie's to us. A restaurant on the other side of the island, it has amazing sunset views and REAL WINE!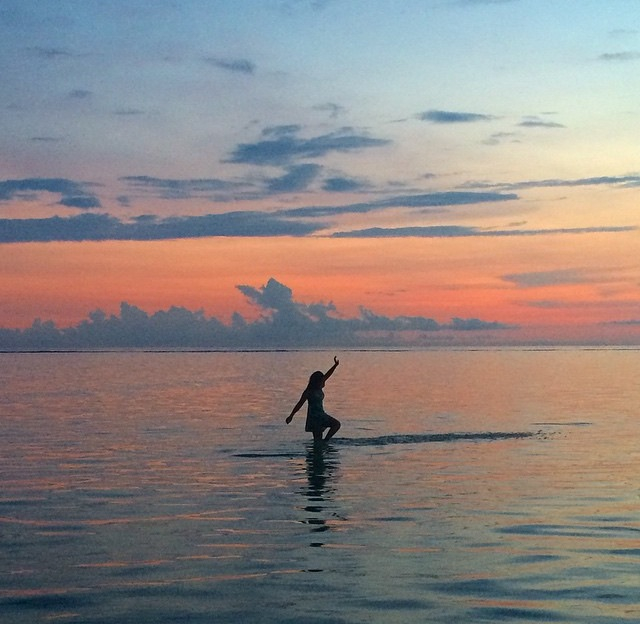 We're talking perfect sunsets. 
Our original plan was to return to Bali for Nyepi, a day of silence observed by Balinese Hindus to celebrate the beginning of their new year, which falls on the spring equinox. But our new friends at the dive center convinced us to stay, arguing that we wouldn't want to be cooped up in our hotel room in Ubud while everyone in the city stayed inside and prayed. It was a fair point.
So on the morning of the last day of winter (or summer, we should say, since we were in the Southern Hemisphere), we used our extra time in Gili to go sub-winging:
Yes, it is exactly like being a real-life mermaid. It's the coolest thing ever.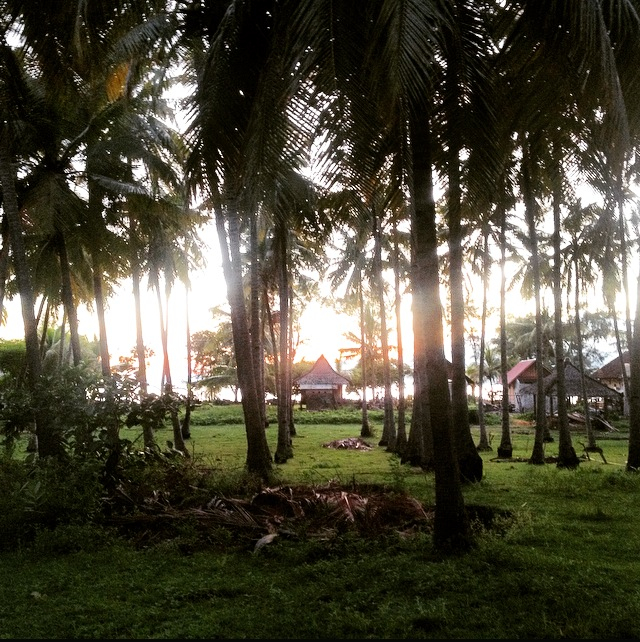 Due to our unexpected extension we moved hotels, and ended up behind this beautiful palm tree forest.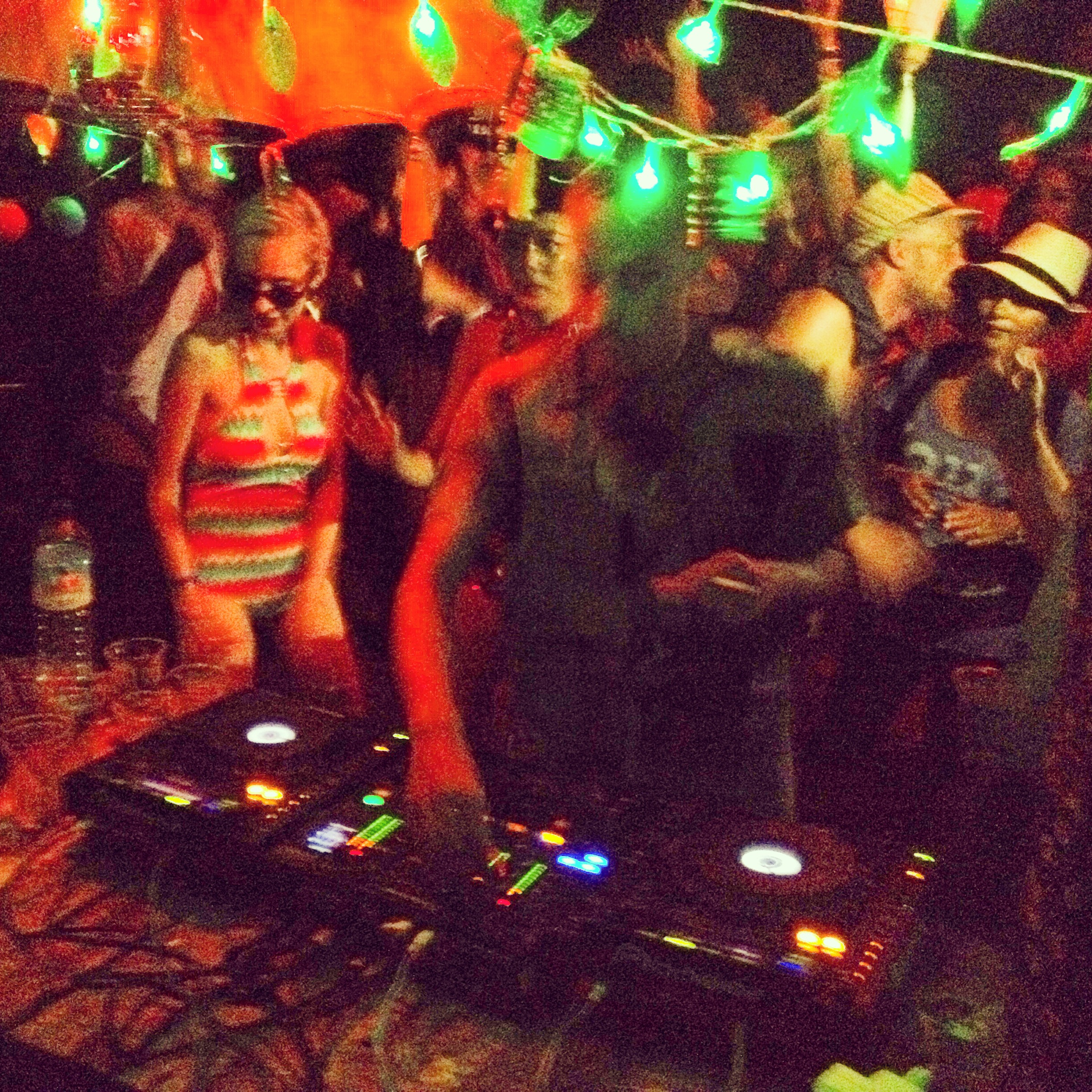 Because Gili is primarily a Muslim community, they do not celebrate Nyepi as strictly as the mainland. In fact, they host an electronic music festival instead. We wandered down the road from our hotel and discovered a beach party of epic proportions, with Balinese locals and tons of dreadlocked hippy ex-pats grooving to some of the best European DJs.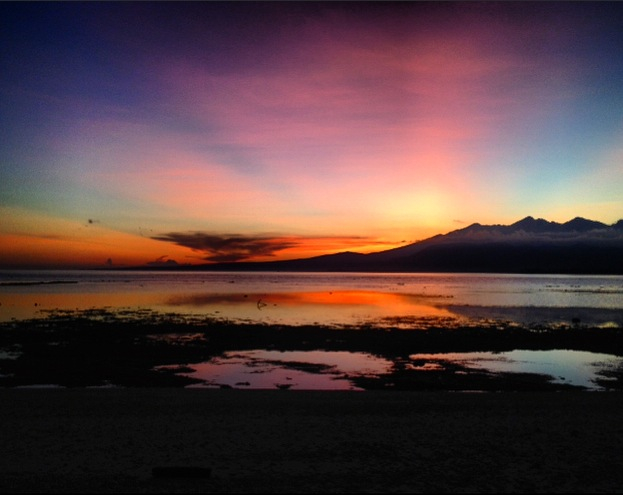 We stayed out until the sun started rising on the first day of spring (…or fall). As the last of the stars receded, you could hear the Hindu fishermen out on the black water chanting prayers for Nyepi into the night. They stopped with the first light, and we went to bed.