So the inevitable has occurred: our bank accounts, which had remained (relatively) flush for so many months, have now taken a nose dive from which it appears there will be no recovery.  Time is running out…guess those daily massages in Bali finally caught up with us. So we decided to cut Laos and Myanmar from our list (too many expensive plane rides and visa applications) and just make our way leisurely through Vietnam instead!
We took an 8 hour bus ride from Phnom Penh to Ho Chi Minh City, the largest city in Vietnam still commonly known as Saigon. We stayed with family friends who very kindly put us up in their guest apartment for five days, and gave us a great feel for life in this teeming south Vietnamese city.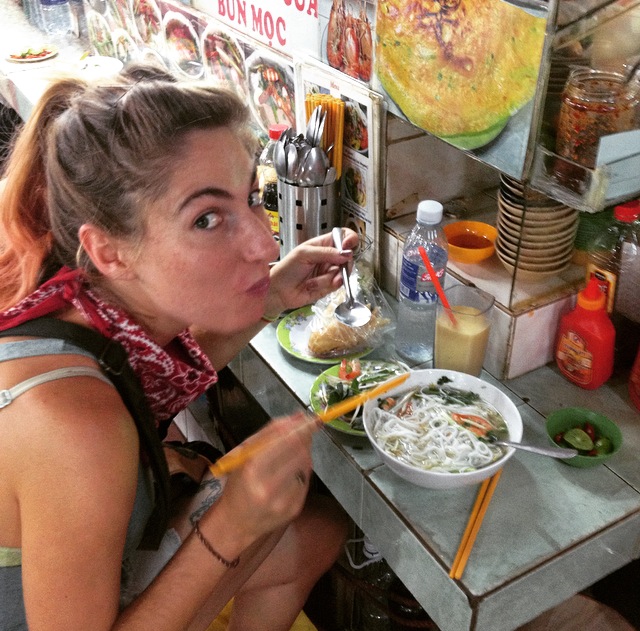 The first thing we did was head to Ben Thanh Market for pho and banh mi at one of the many food stalls.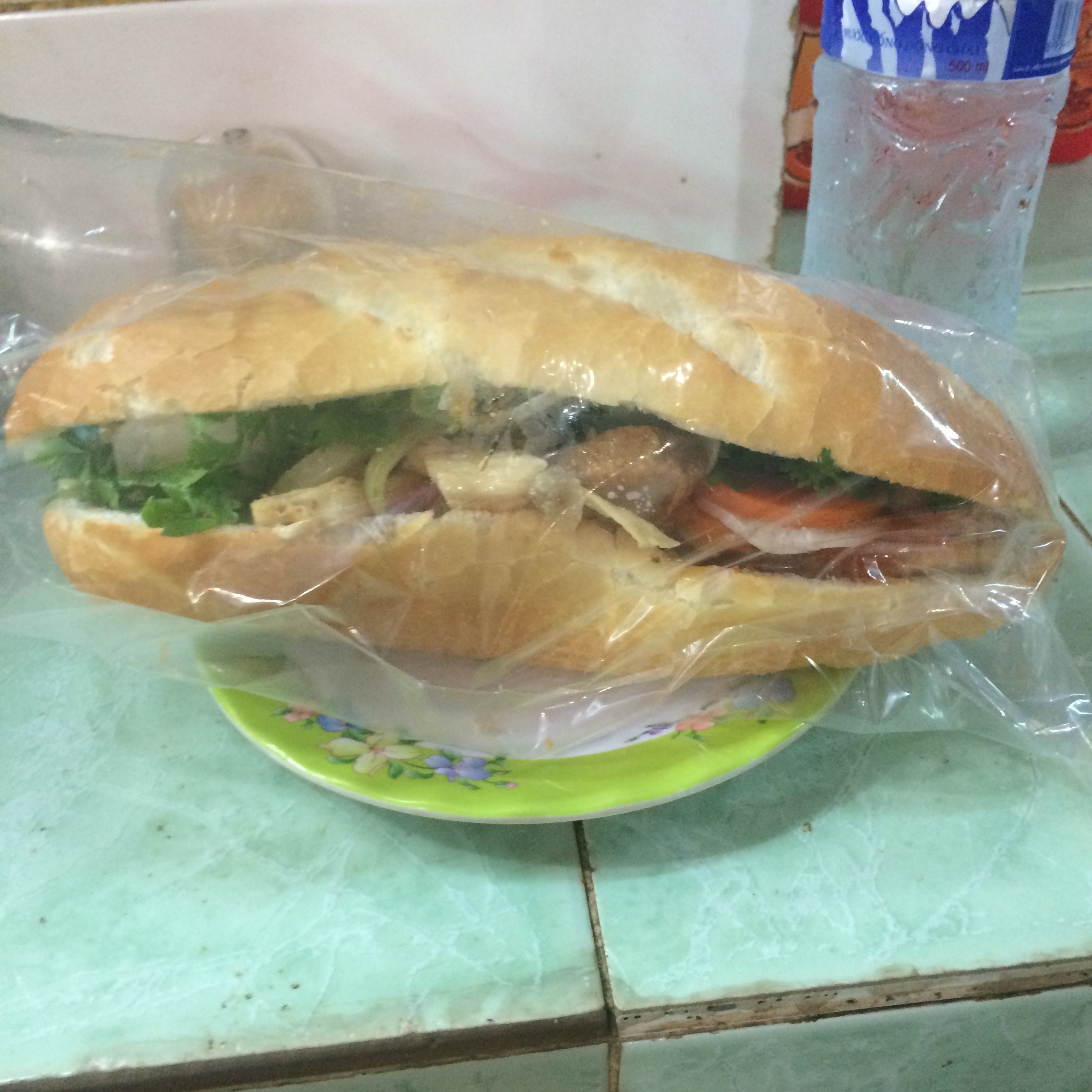 The first banh mi out of the approximately 1,525,564 we ate while in Vietnam. At first you try not to think about the reasons why they know how to make their baguettes so deliciously crusty and fluffy…and then such distasteful thoughts are pushed from your head with your first delicious bite.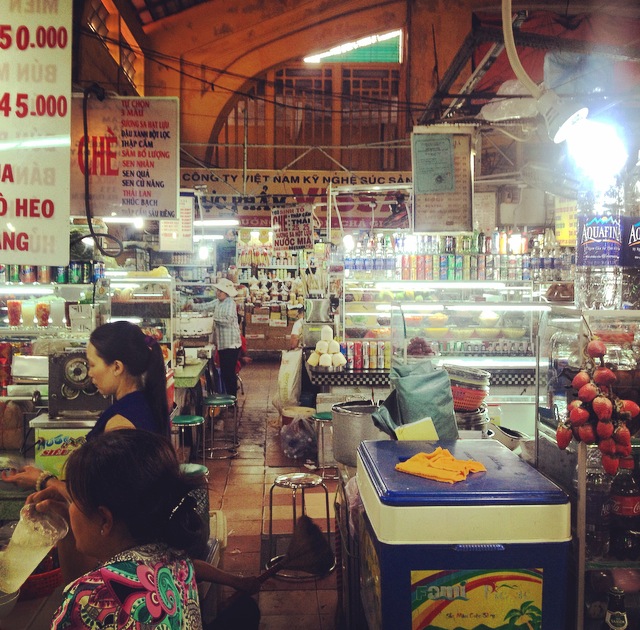 The many, many food stalls at Ben Thanh market, which also sells clothing, souvenirs, jewelry, and basically anything else you could ever want.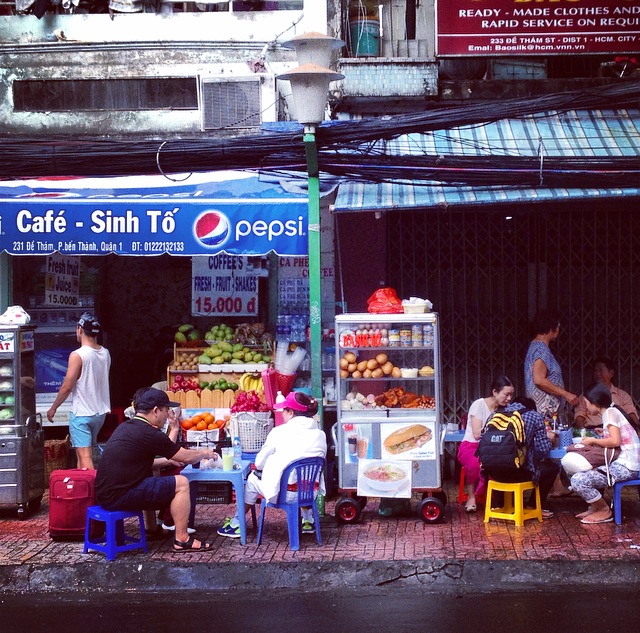 A classic early-morning Saigon scene – locals eating breakfast at tiny tables right on the sidewalk.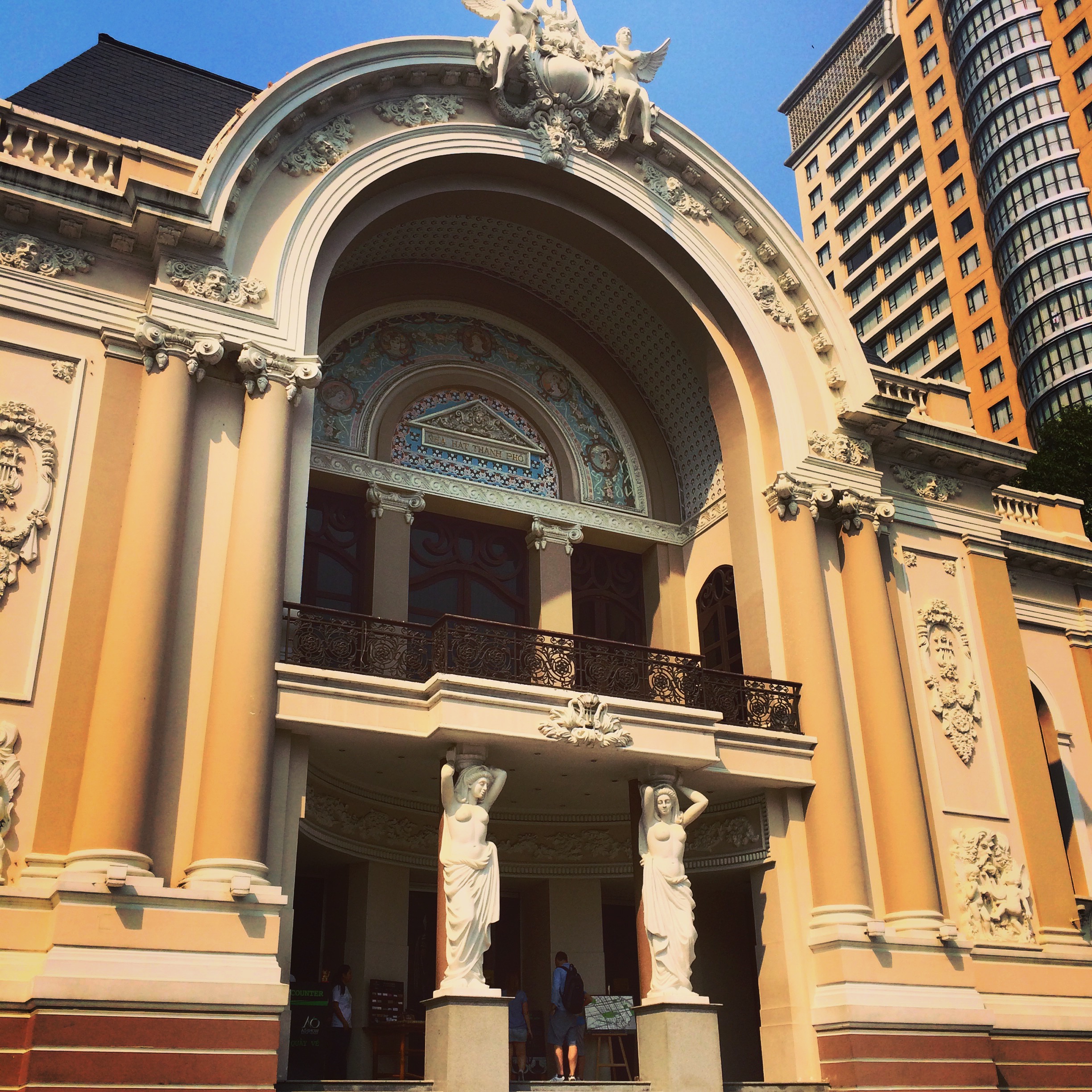 The French influence is still felt in Saigon; the Notre Dame Basilica and the Central Post Office are both located on Paris Square and are made entirely of materials imported from France. Many of Saigon's most important buildings are built in French colonial style, including the beautiful Opera House. 
Phoebe and The Hotel Continental, where Graham Greene wrote The Quiet American.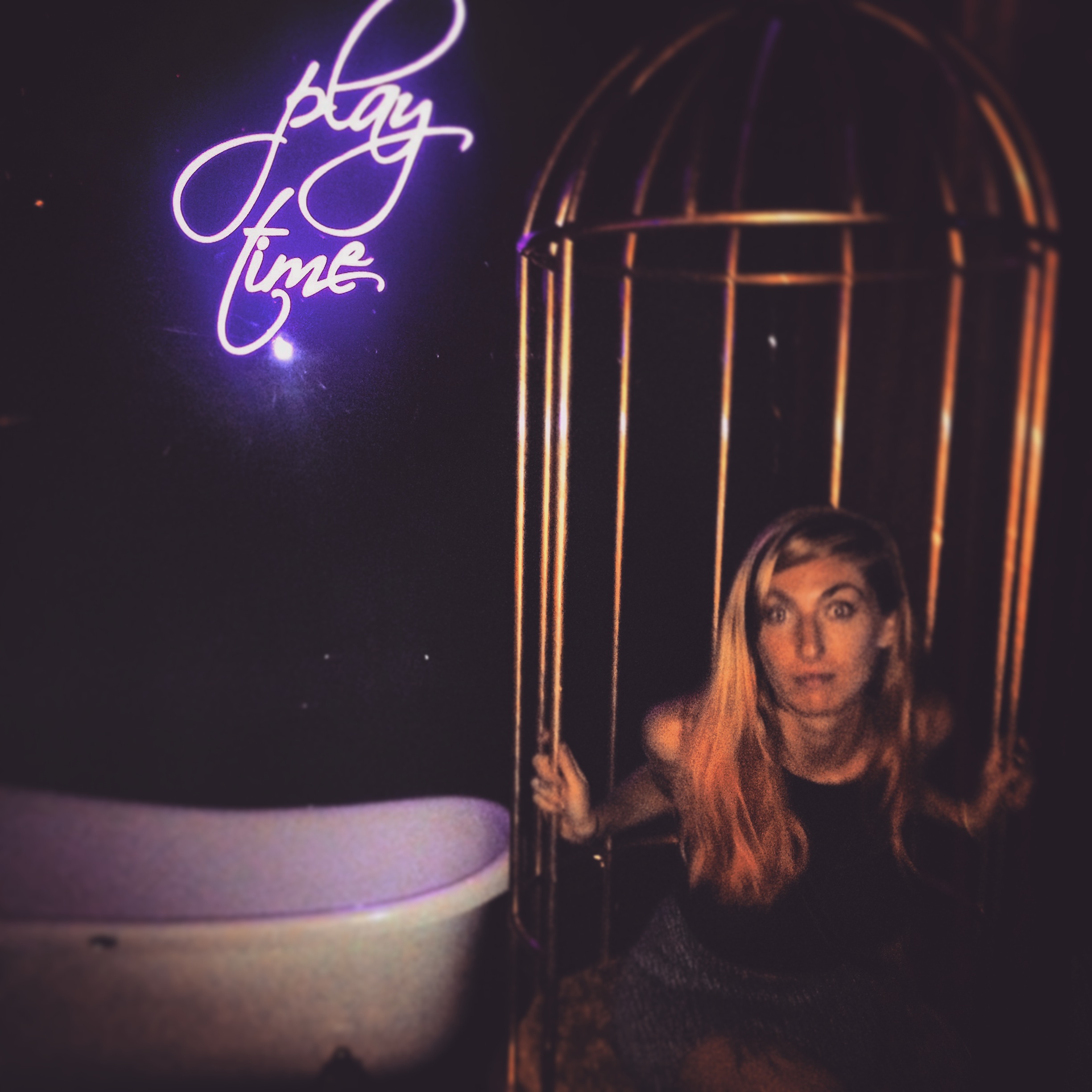 Obviously we took some time to rage while in Saigon. The city is known for it's "sky bars" which are located on the tops of skyscrapers and provide incredible views of the city and a wonderful breezy respite from the heat and humidity. Here's Ele at Glow Bar, where one drink would put us back a week's budget. Luckily we had friends footing the bill.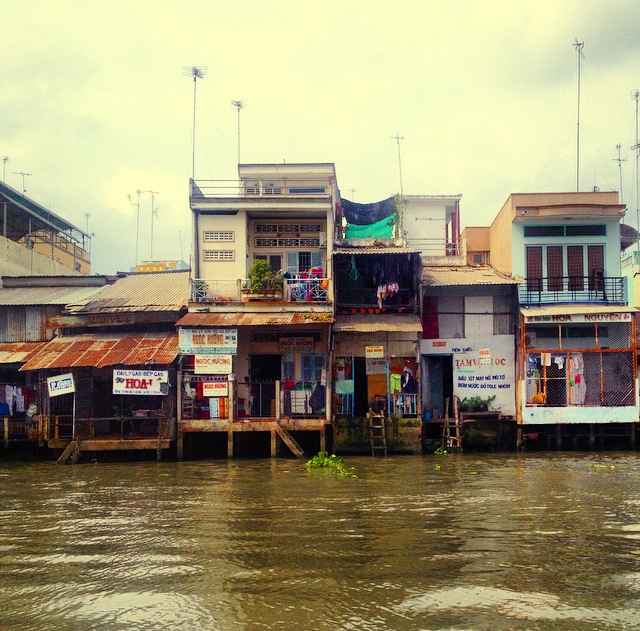 We took a day trip to the Mekong Delta, in the Ben Tre province. This was one of the coolest things we've done – we spent the day in a traditional Vietnamese boat sailing down the Mekong and the little canals surrounding it.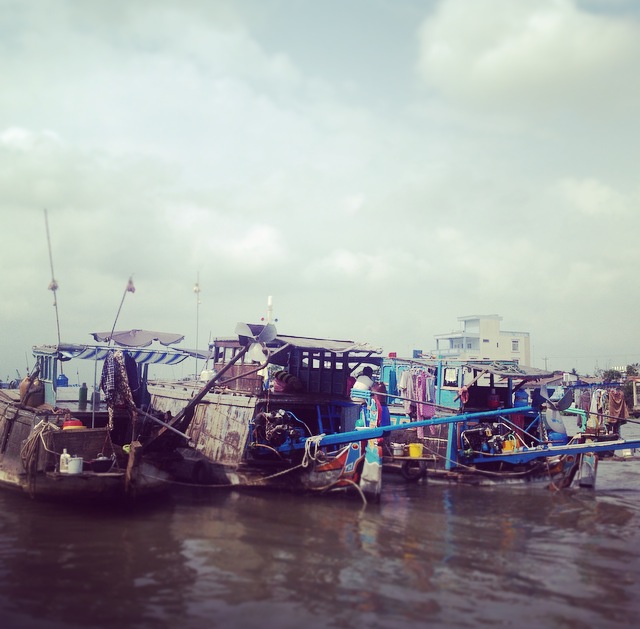 Traditional Vietnamese boats like the one we were sailing in. Those long pieces of bamboo sticking up into the air showcase each boat's wares…so, say you're selling bananas, you'd have a banana at the end of your bamboo shoot.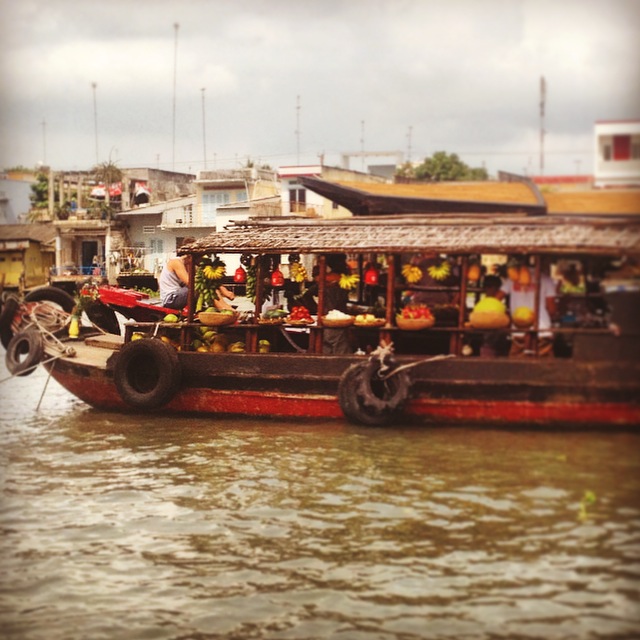 The floating fruit markets on the Mekong. You pull your boat up, board, and get your grocery shopping done.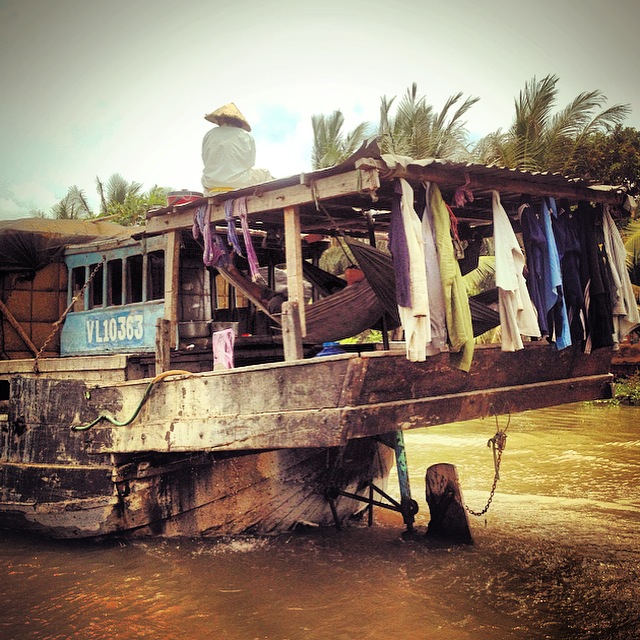 Seriously, how cool are these boats??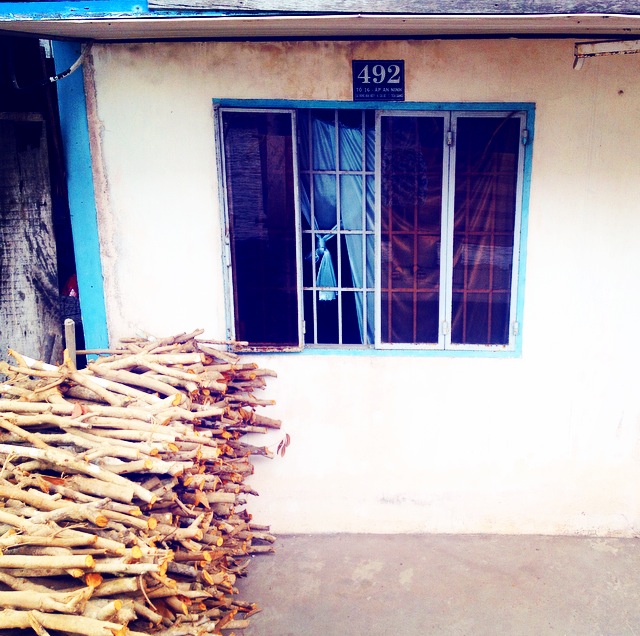 We stopped off at little islands and villages throughout the day to get a sense of local life.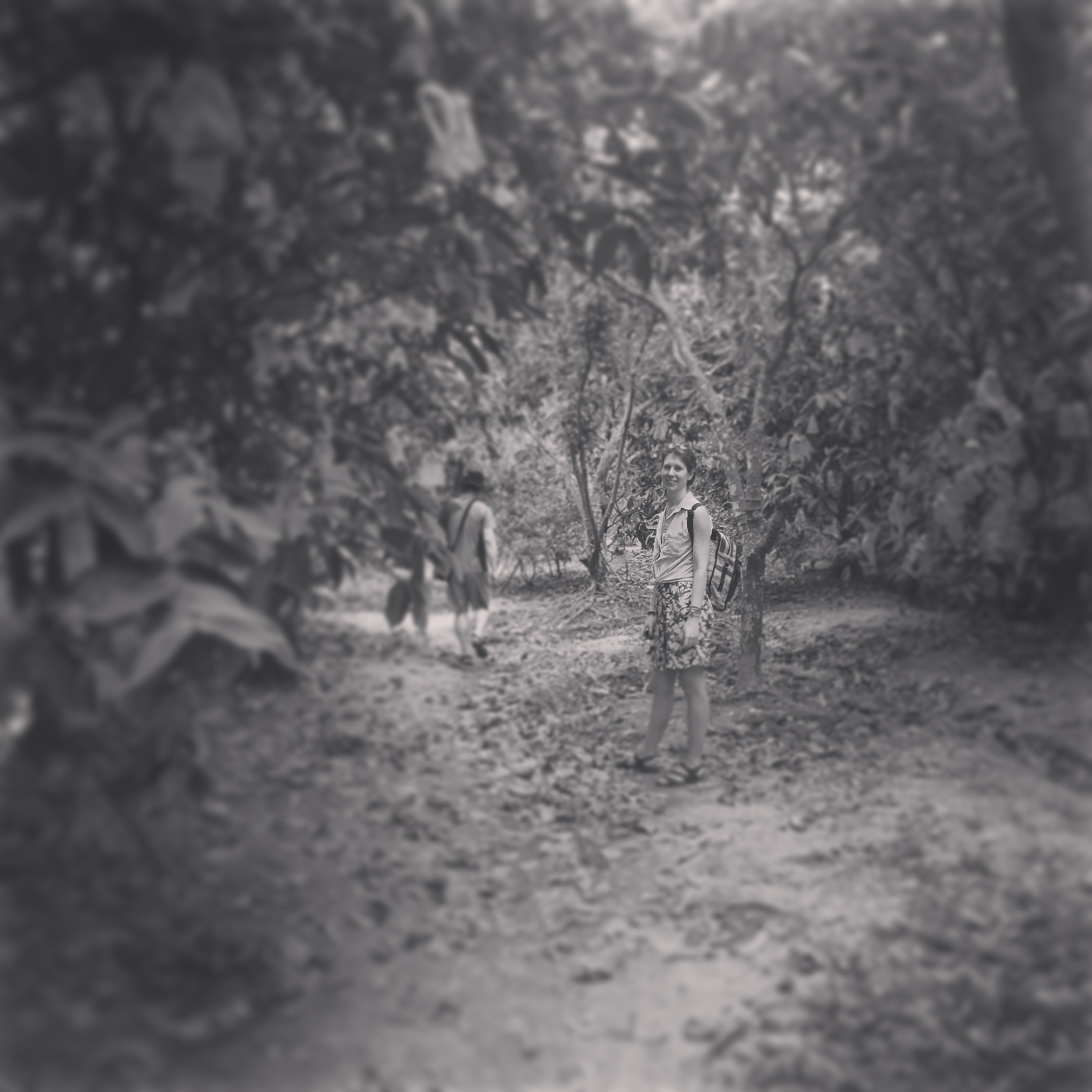 Here's Phoebs in an orchard of bell-apples, or water-apples. They are shaped like bells and taste like a really juicy hybrid of apple and pear. Delish!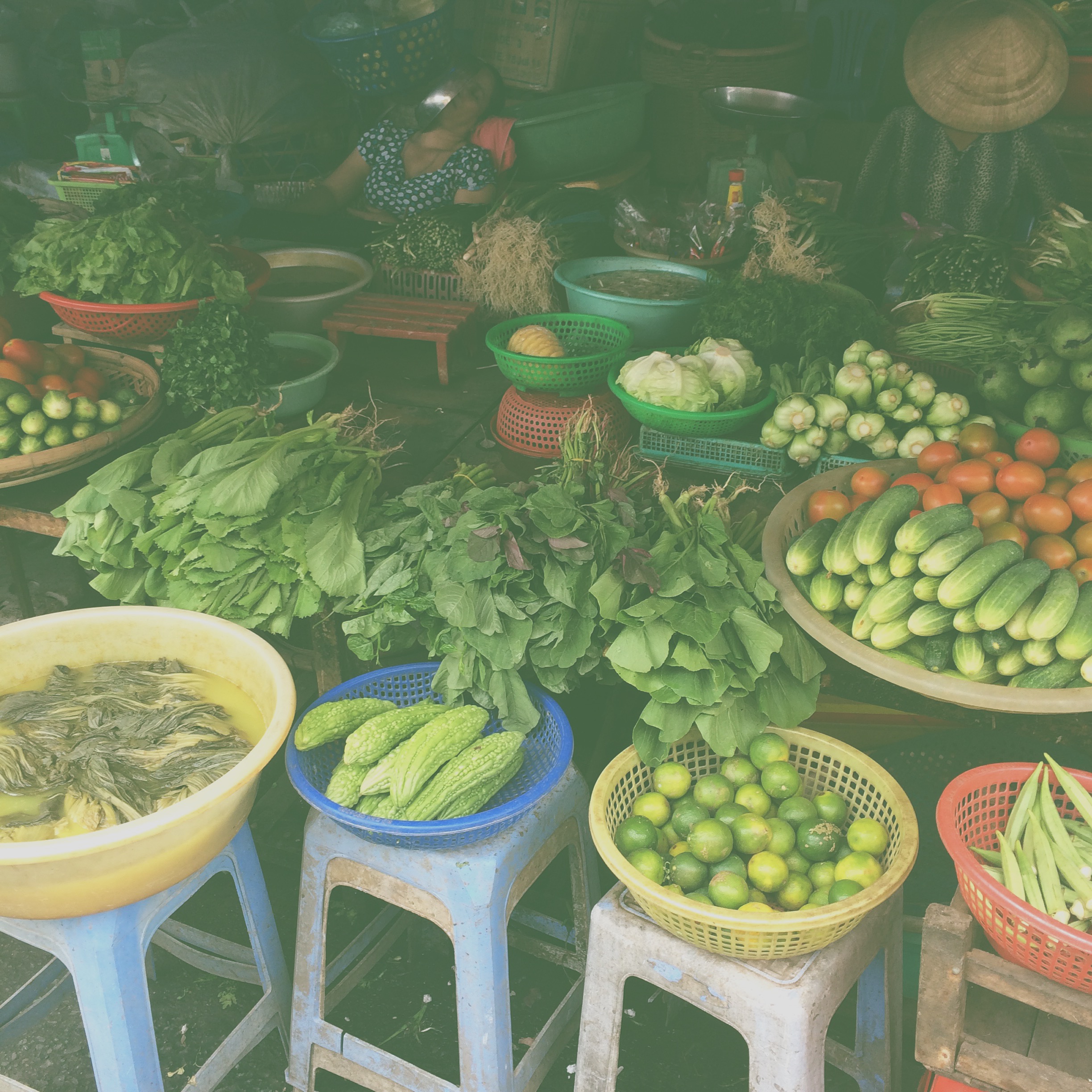 The market in Cho Vinh Long, our last stop before boarding the bus back to Saigon (someone was sleepy…).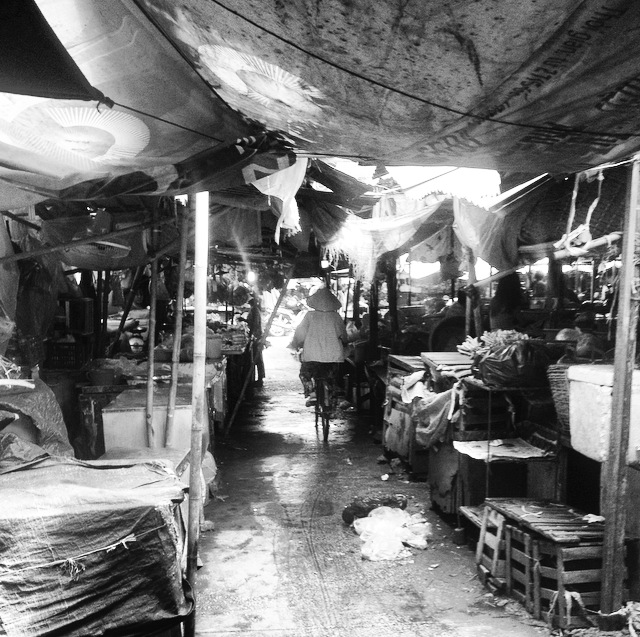 A biker negotiating the tiny market lanes in a traditional Vietnamese sunhat. 
After a great week in Saigon, we got on an overnight bus to Nha Trang, a beach town on the coast of the South China Sea.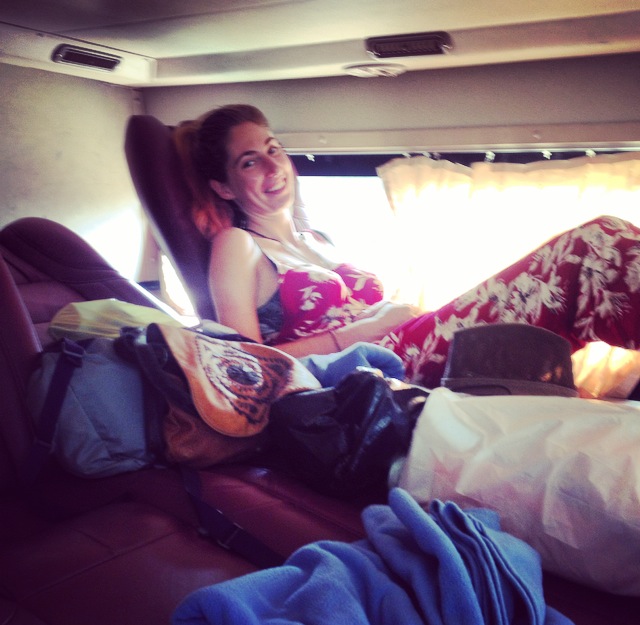 The overnight buses look pretty cool: three rows of double decker fully reclining seats, kind of like bunk beds. Only problem is we were pick-pocketed during the night – the bastards. This picture was taken pre-robbing, obvs.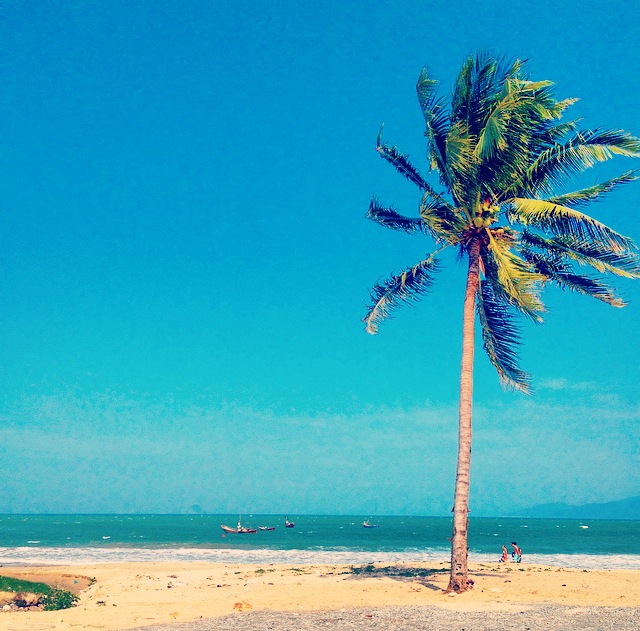 Nha Trang is beautiful, and it was lovely to be back at the beach. It's filled with Russians, supposedly because they can get a direct flight in.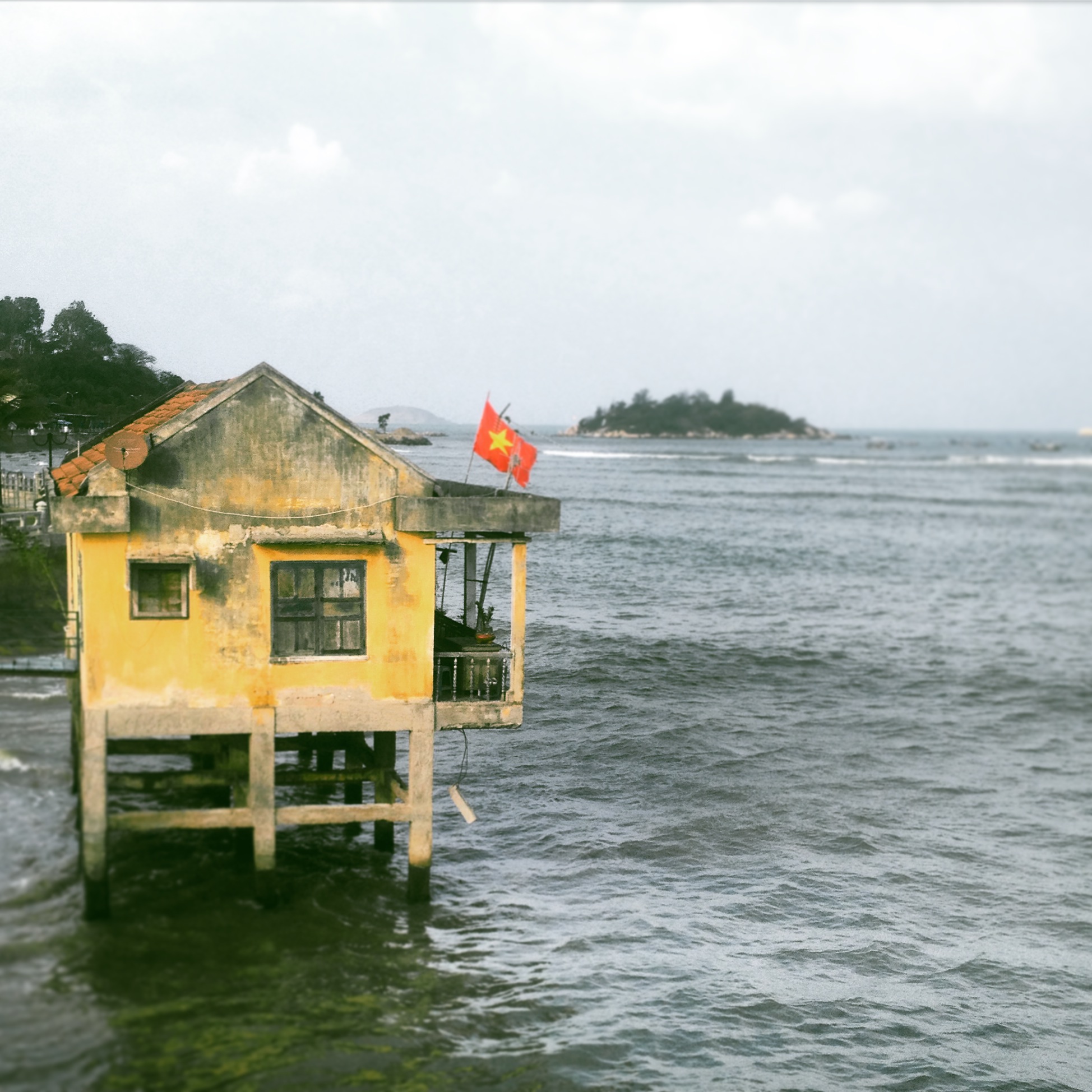 It was our first sighting of the South China Sea!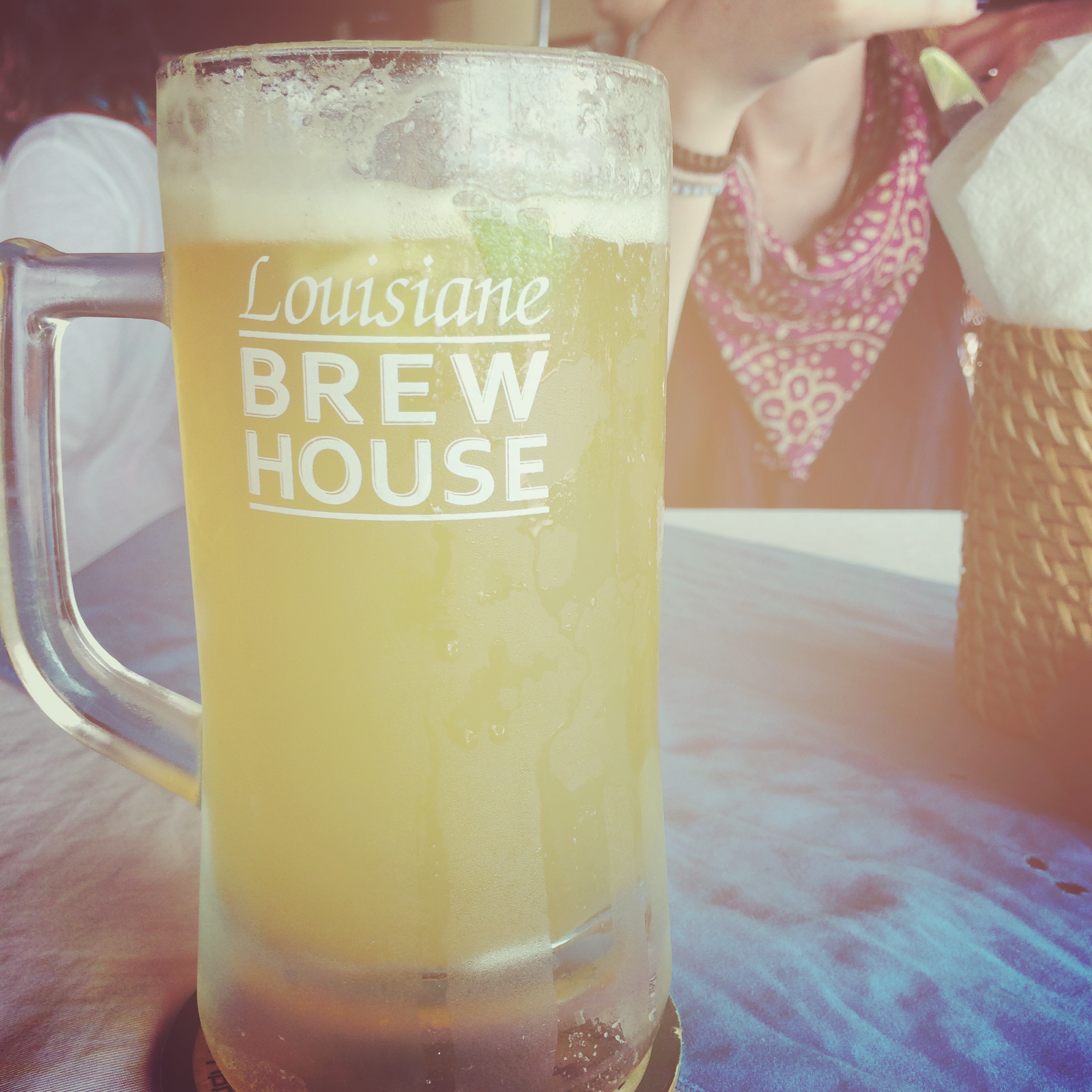 And our first experience with craft beer in Vietnam – this is "Passion," a local passionfruit brew…not too shabby!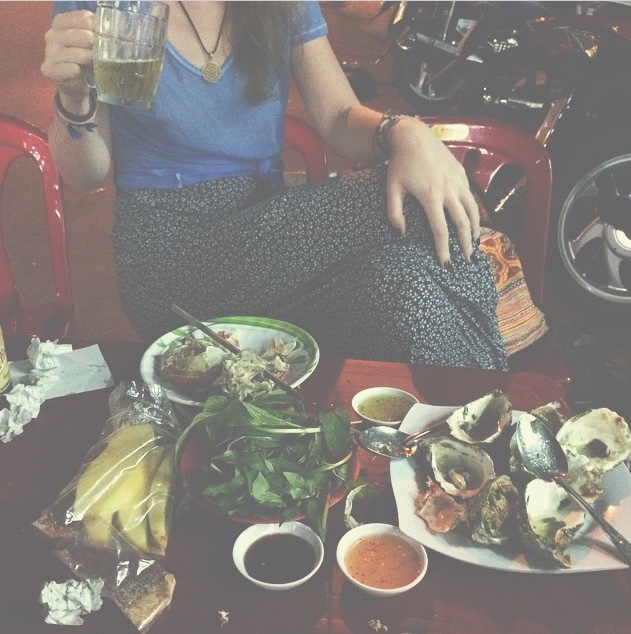 We happened to be staying right near Nguyen Ti Minh Khai, which seemed to be a major local evening hot-spot. We had dinner at one of the street stands, where they grill fresh seafood on an open flame right next to you.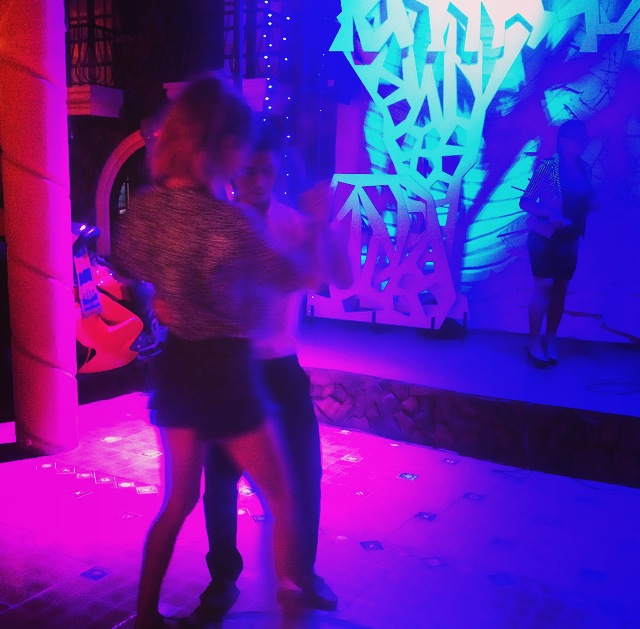 By far the highlight of Nha Trang was finding La Mancha, a bar filled with Russians where we learned how to ballroom dance with a Vietnamese instructor a good four inches shorter than us. Now officially addicted. 
After then it was back on an overnight train to continue our slow progress up the coast of Vietnam….