We have made it to Asia! Two weeks ago we left the English-speaking world and arrived in Bali, an island country in Southern Indonesia about the size of Delaware.  W. Somerset Maugham described this part of the world in his short story The Pool: 
"He was intoxicated by the sunshine. When he rode through the bush his head reeled a little at the beauty that surrounded him. The country was indescribably fertile. In parts the forest was still virgin, a tangle of strange trees, luxuriant undergrowth, and vine; it gave an impression that was mysterious and troubling."
That pretty much sums up the look of this place. Somerset Maugham wrote a lot of stories set in the South Pacific Islands, many of which dealt with the question of pleasure, and ambition, and the culture clash between east and west. In his stories, characters ponder where true happiness is found: whether it accompanies money, power, and the materialism of the city, or rather in the more simple, elemental, and naturally beautiful world of the tropics. Bali's definitely changed a lot since Maugham was writing – the big cities are chock ablock with motorbikes, tourists are everywhere – but the quieter, untouched parts of the country that we've discovered have definitely made us consider that question.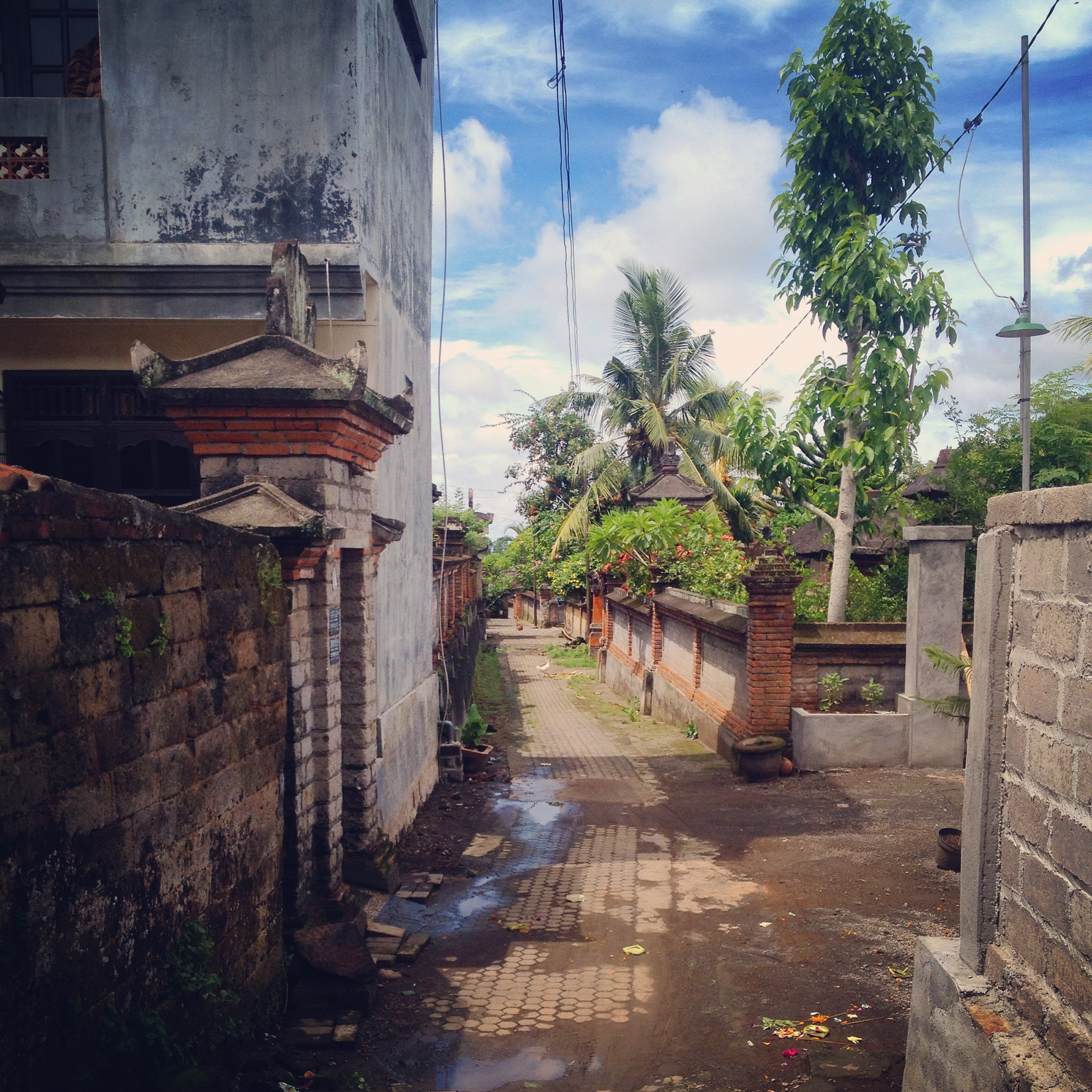 Our first stop in Bali was the city of Ubud, the cultural center of the country. This is the alleyway leading up to Dani Home Stay, in Peliatan, where we were staying. Home stays are just really cheap "hotel" rooms, usually built into a family complex, and only provided with fans and running water.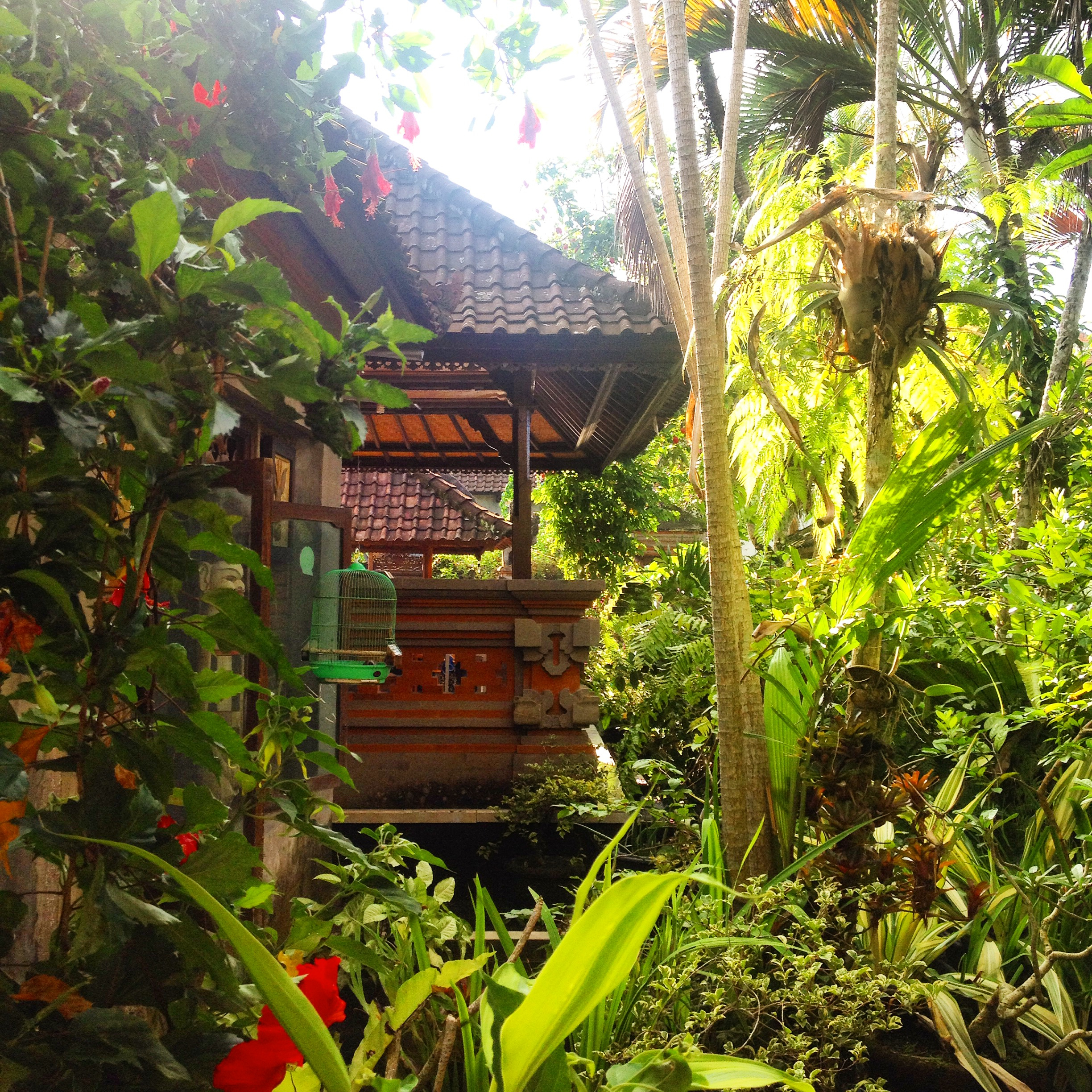 The view from our little patio in Dani's complex. Roosters are everywhere here in Bali, roaming freely, and wake us up every morning without fail.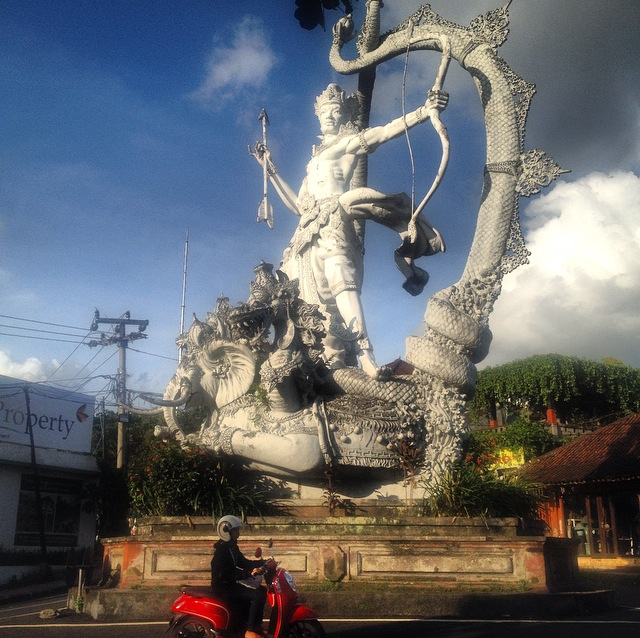 Peliatan is about a ten minute walk from the center of town, and this statue of Arjuna, a hero in Hindu culture, is the turning point into the heart of Ubud.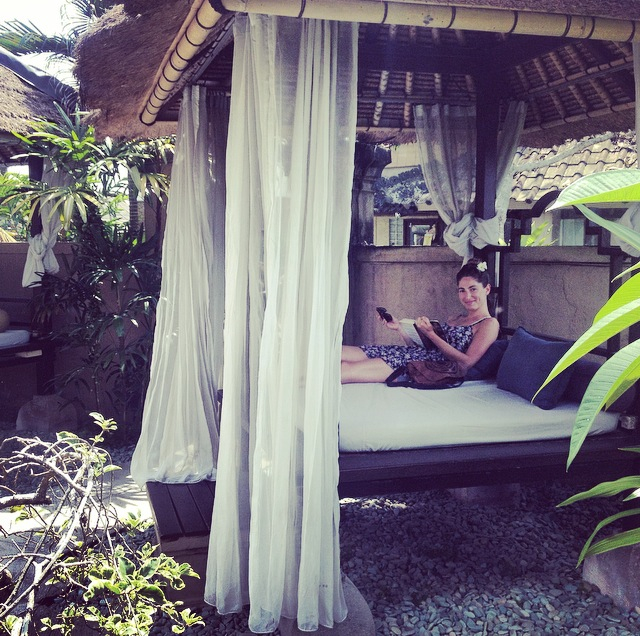 We spent our first few days in Ubud shopping and indulging in the ridiculously cheap – and amazing – balinese massages. A massage that costs $150,000 rupiah – a decent price here – is still only about $10 American dollars. You better believe we've been taking advantage.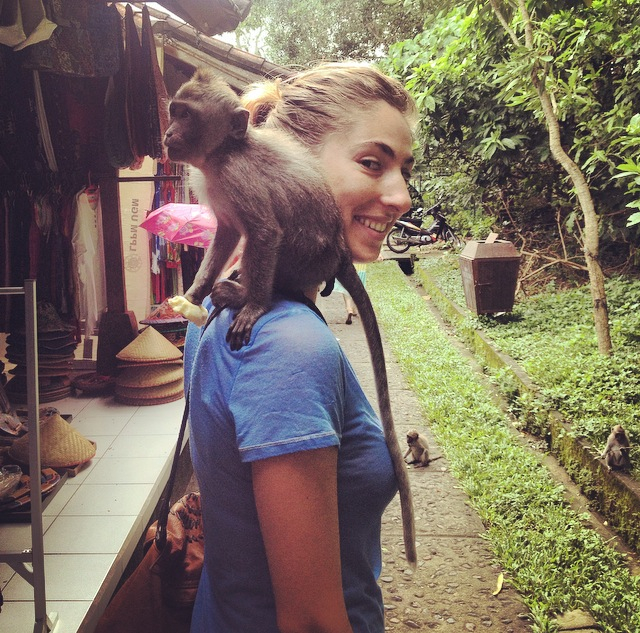 We also took a trip to the unbelievable Monkey Forest Sanctuary, where the monkeys run free and rampant and the humans are more like interlopers into their space. Visitors can buy bananas and feed the monkeys, but you have to be careful not to let them see you put the bananas in your bag…one monkey pounced on Phoebe and started tearing through her things before we'd taken two steps into the park. Here, Ele shows off her monkey-whisperer ways.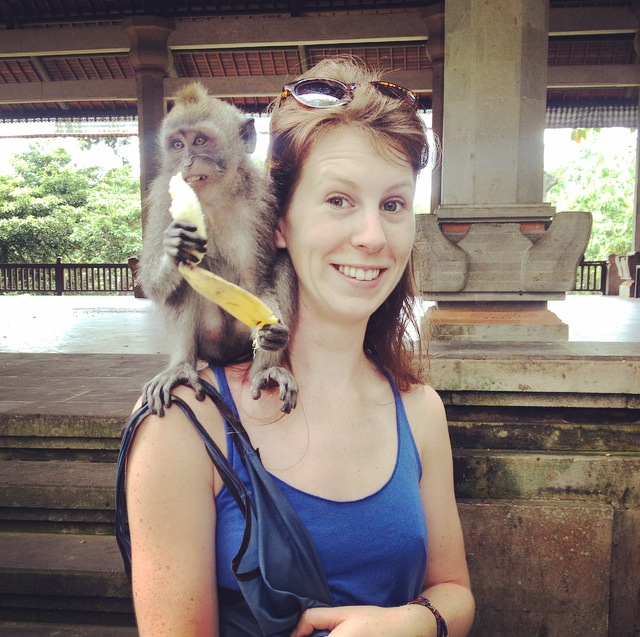 And Phoebe holds onto her bag for dear life.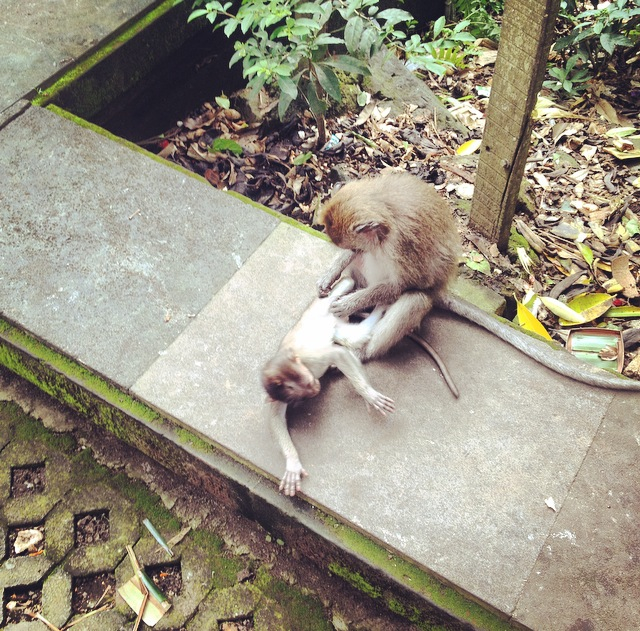 The monkeys show no fear of humans. You can touch them, and get right up in their personal space; here, a mama monkey picks some creatures out of her baby's fur.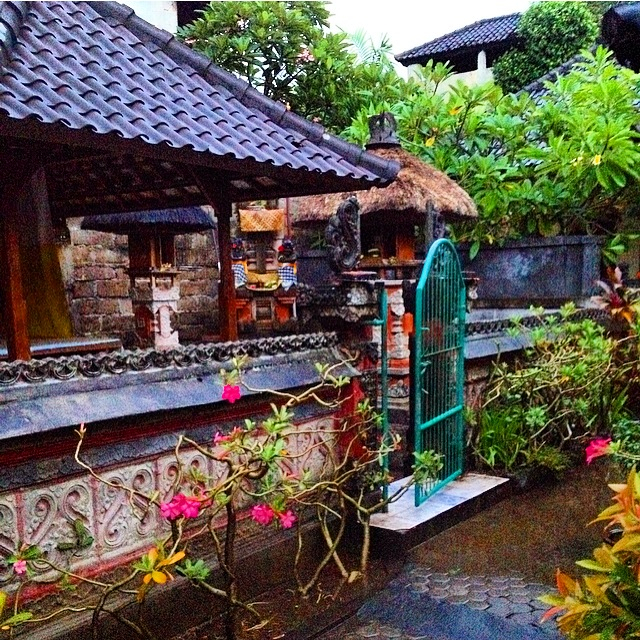 Our next stop was Sanur, a sleepy little beach town on the south east coast of Bali, more popular with older tourists. This is was the family temple at our home stay.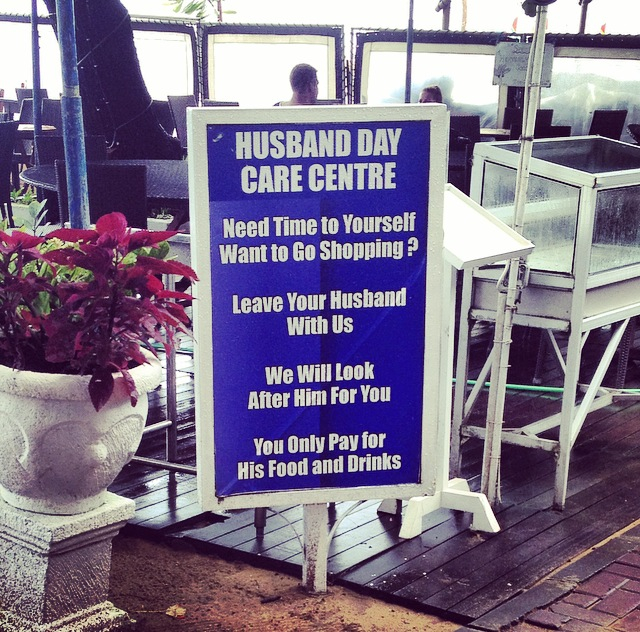 The Balinese economy is based on tourism, and they are aggressive salespeople as a result. Gotta admit though…Husband Day Care is a steal!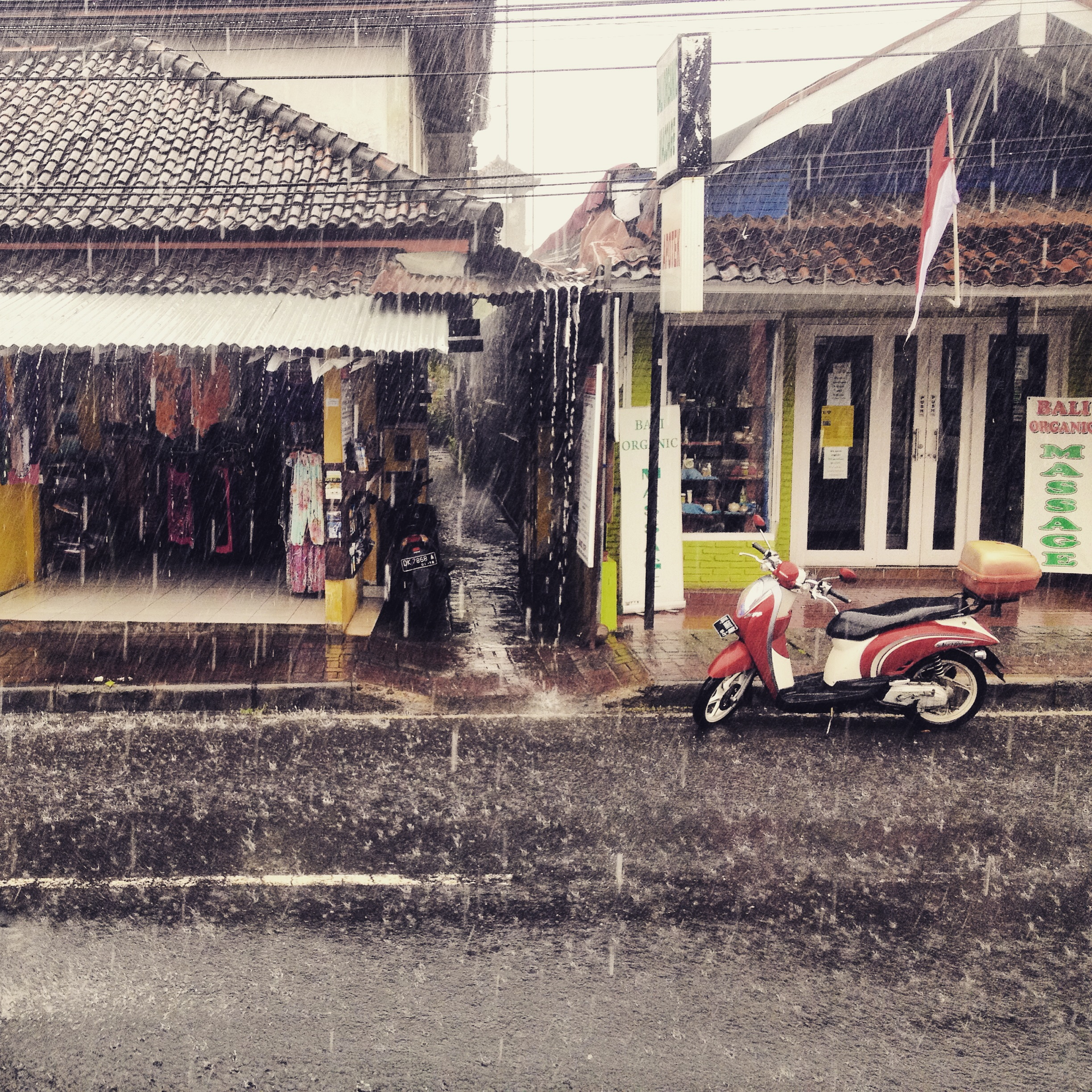 We're here for the tail end of rainy season, which typically runs from October to April. For the most part the weather has been good – a mixture of overcast and sunny days, always very hot – but in Sanur we had two straight days of torrential rain. These downpours are so cool though; it buckets down for hours on end, and the thunder and lightning always feel incredibly close.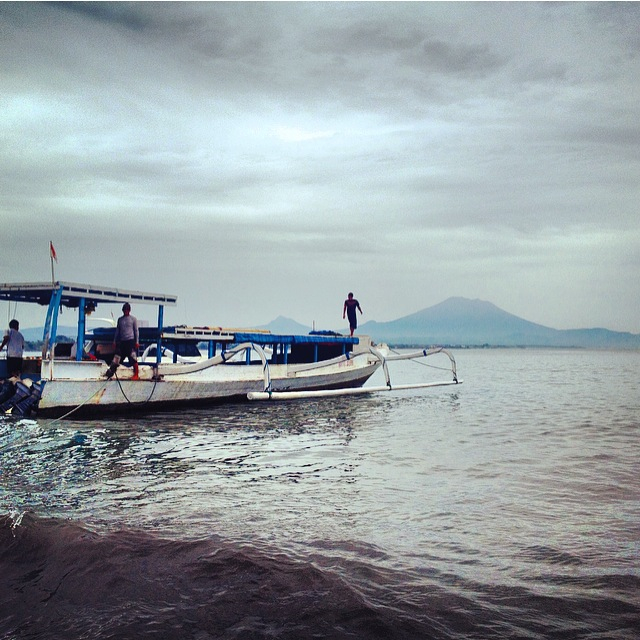 After two days in Sanur we decided to take the slow boat across the Bali Straight to Nusa Lembongan, an even tinier island in the South Pacific Sea known for it's scuba diving. We had to wade through thigh high water to get to the boat, and were very grateful for our backpacks…all the tourists with wheely bags looked a little ridiculous.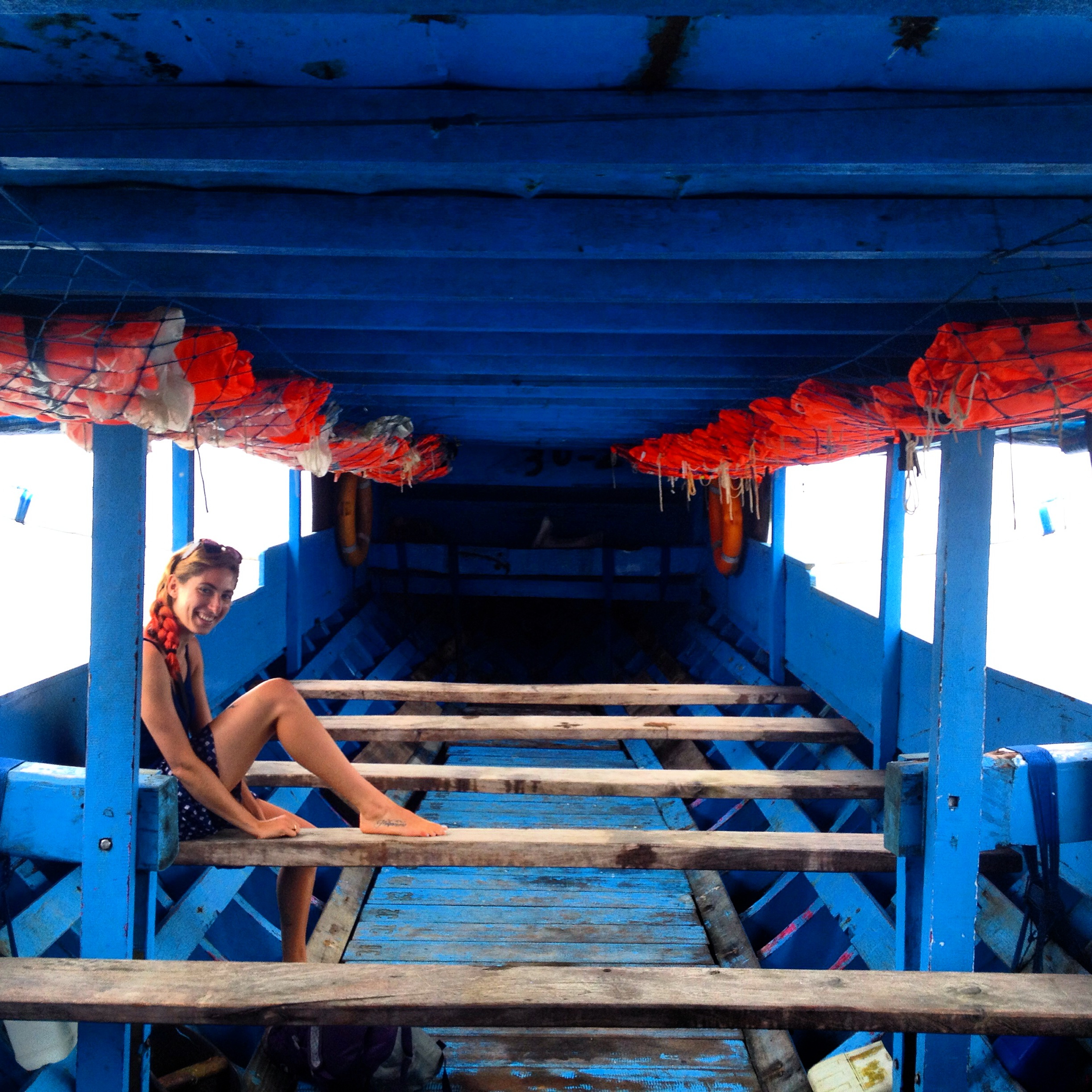 On the slow boat to Lembongan! Thankfully it had stopped raining at this point; the ride over is about an hour.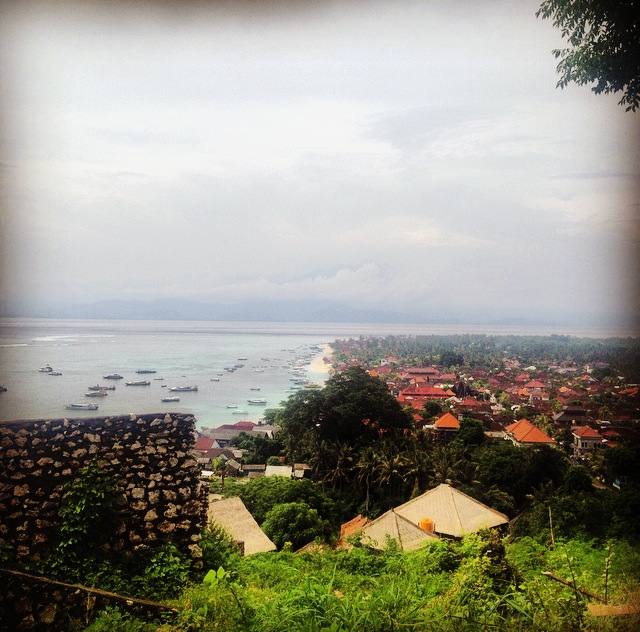 A view of Lembongan harbour, with a volcano partially obscured in the back. There's really only one single lane road that runs through the whole island, and home stays for tourists are built right up against the local beach shacks.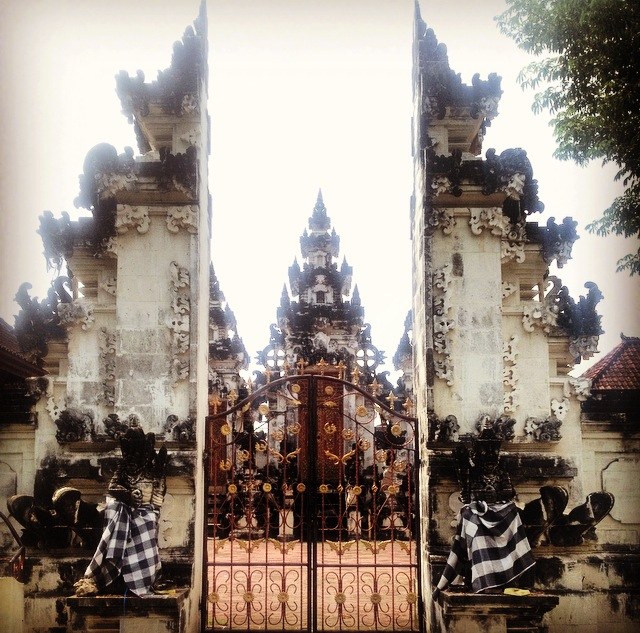 Cool temple, guys! 
On our explorations around the island we came across this Balinese cemetery, where loved ones leave offerings – including umbrellas, bottles of water, and packets of sweets – at graves.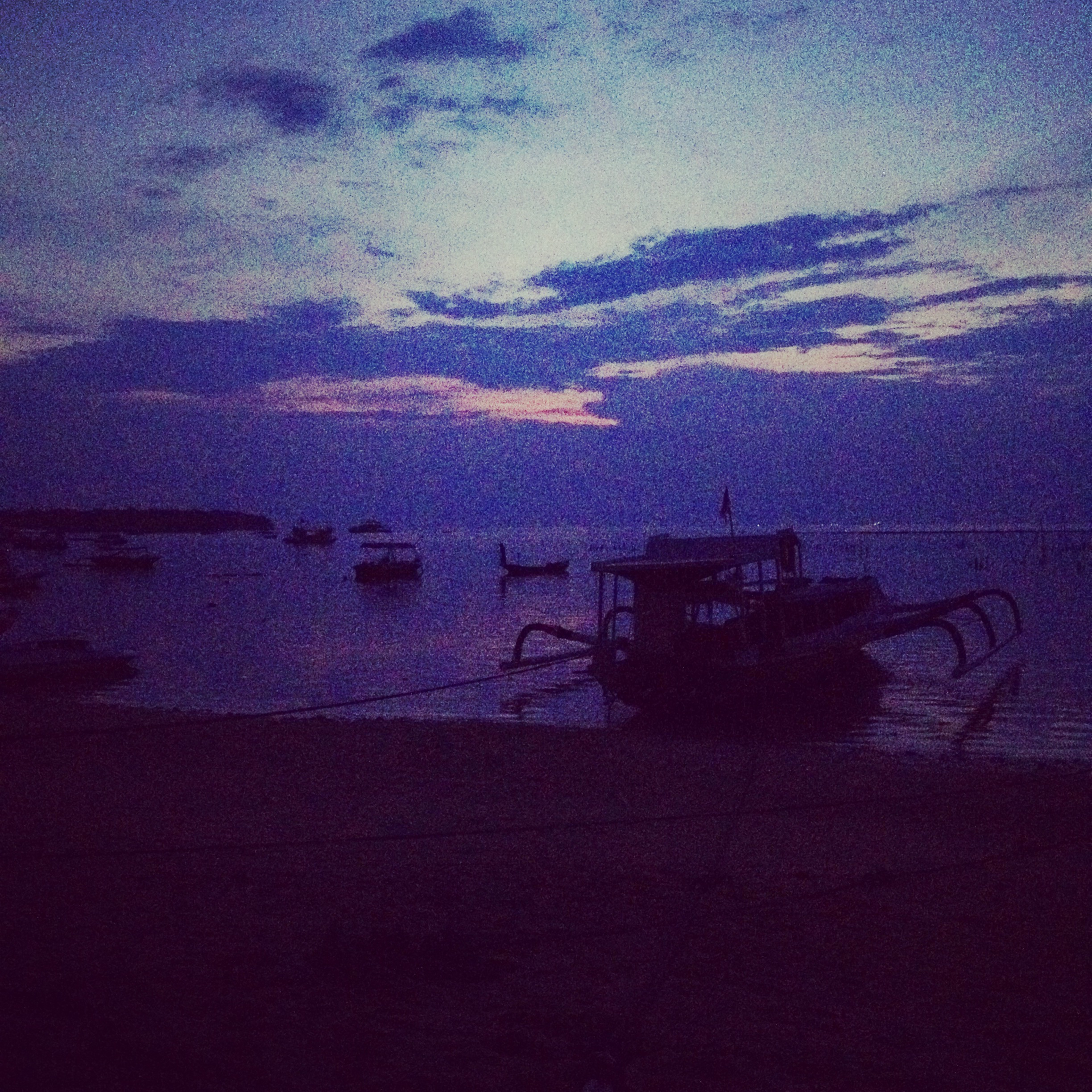 The harbor at Lembongan is always bustling with activity, as boatmen ride back and forth from the mainland.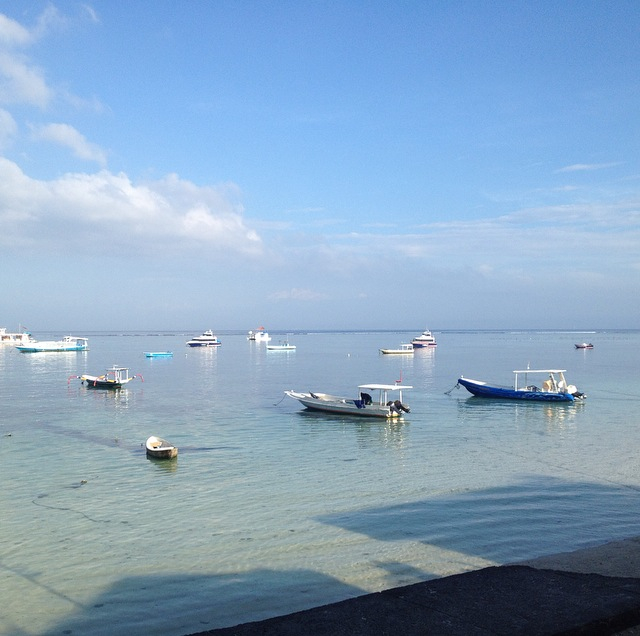 The morning we had to head back to the mainland the cloud finally lifted, and we had a gorgeous ride back. 
On the top of the boat this time!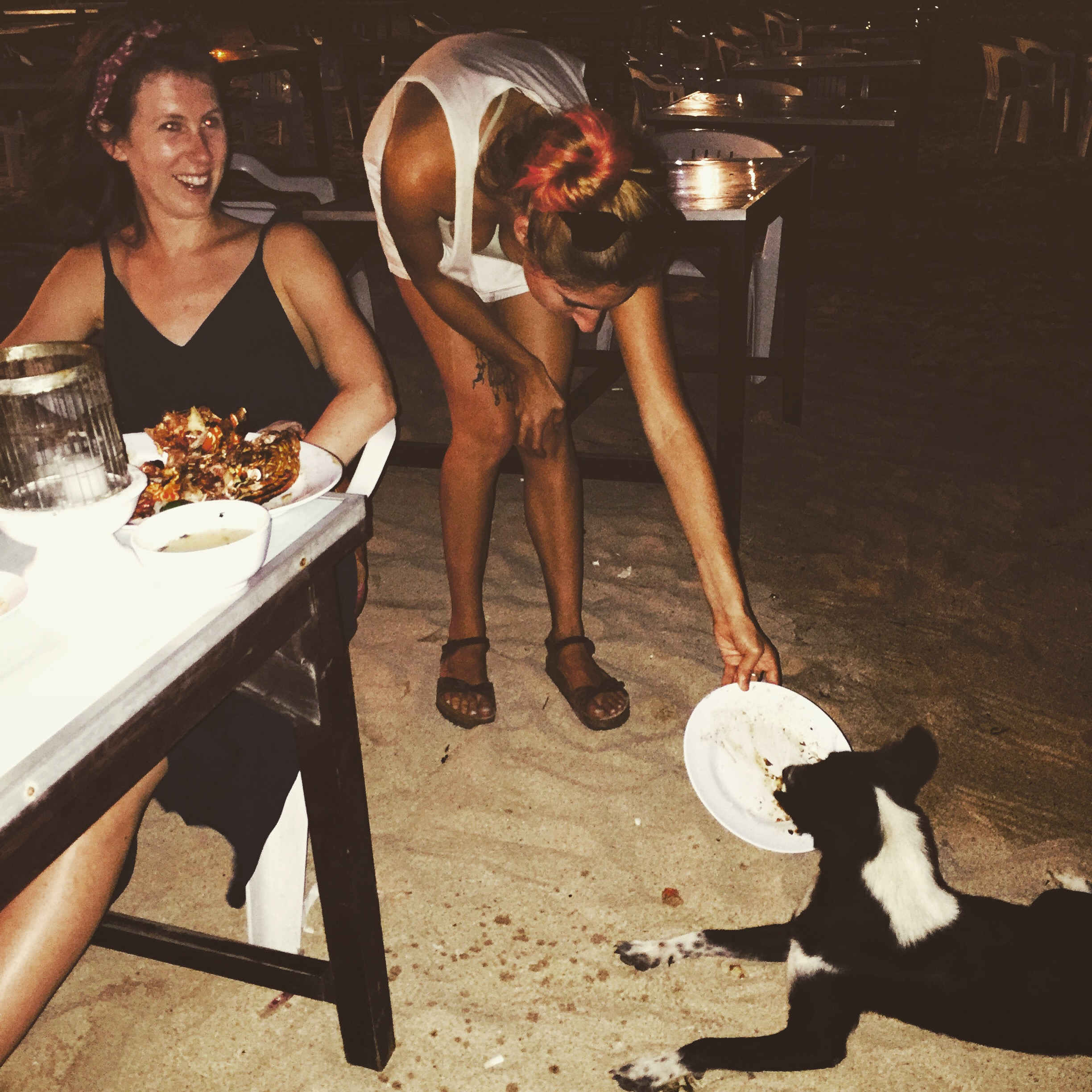 Ele's mom, Terry, was able to visit for a day on her way to the Soloman Islands, and treated us to a delicious seafood dinner on the beach. Ele couldn't restrain herself from feeding our new friend, Black Lobster.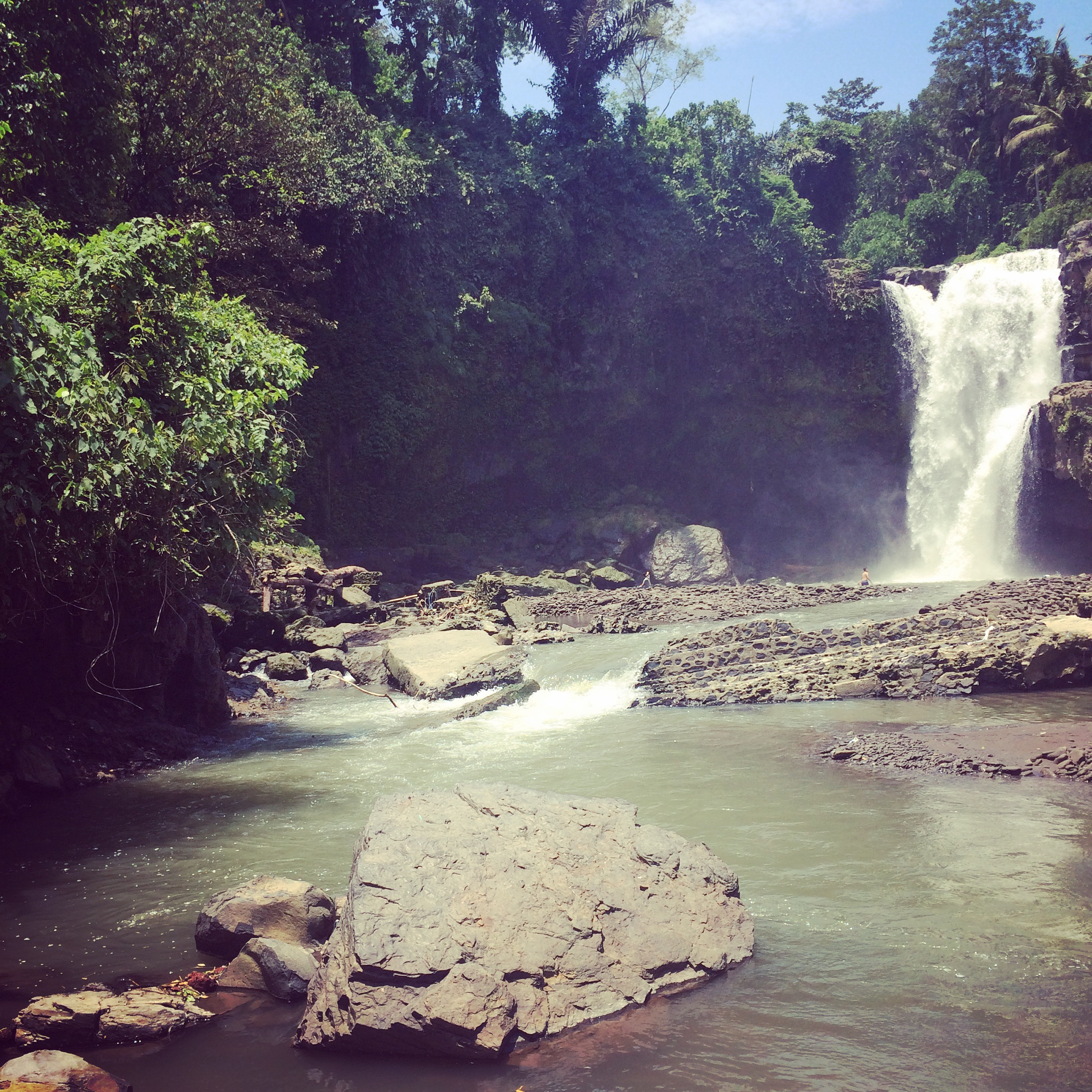 We watched some crazy kids jump off this waterfall on the day we picked Terry up from the airport.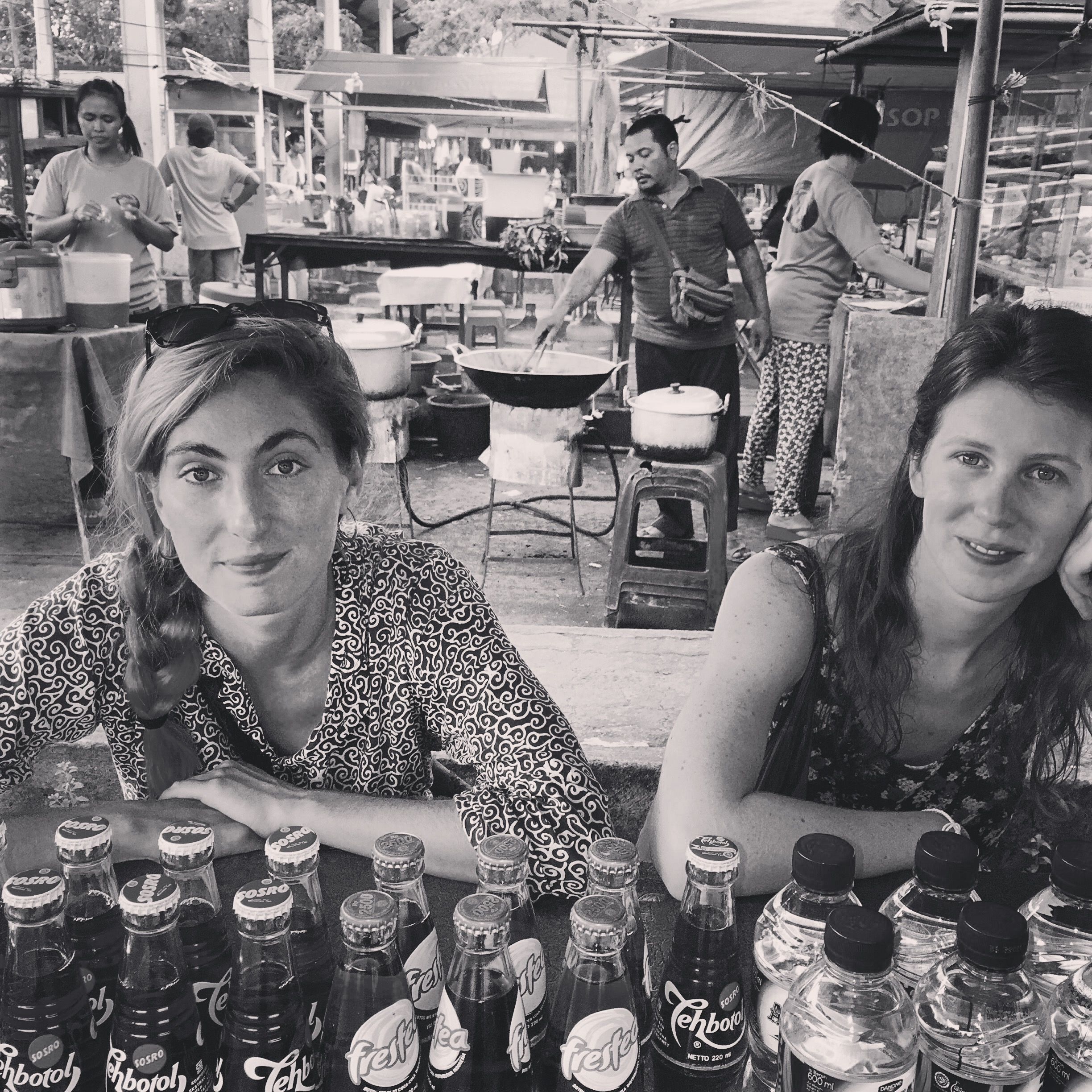 And went to a night market that evening for roast chicken from a local street vendor.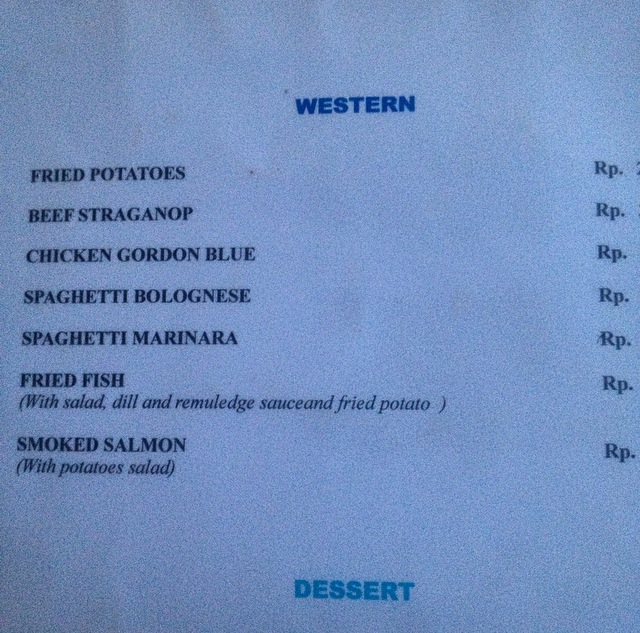 The food in Bali is really good, especially if you eat local….but they do seem to have a certain fondness for Chicken Gordon Blue.