The time has come to recap our last five days on the road since leaving Auckland. Are you ready? It's a doozy. Hopefully it won't drain you mentally as much as it did us physically, which is to say, a LOT.
Saturday, January 10: Woke up at 5am at our hostel in Auckland, and packed up our backpacks as quietly as possible so as not to disturb our French roomies. Arrived in Raglan, a small town on the west coast of the North Island known for it's surfing, by around 8 – just enough time to do a few stretches on the beach before renting wetsuits and boards. Phoebe got up for the first time, neither of us drowned, it was a great triumph.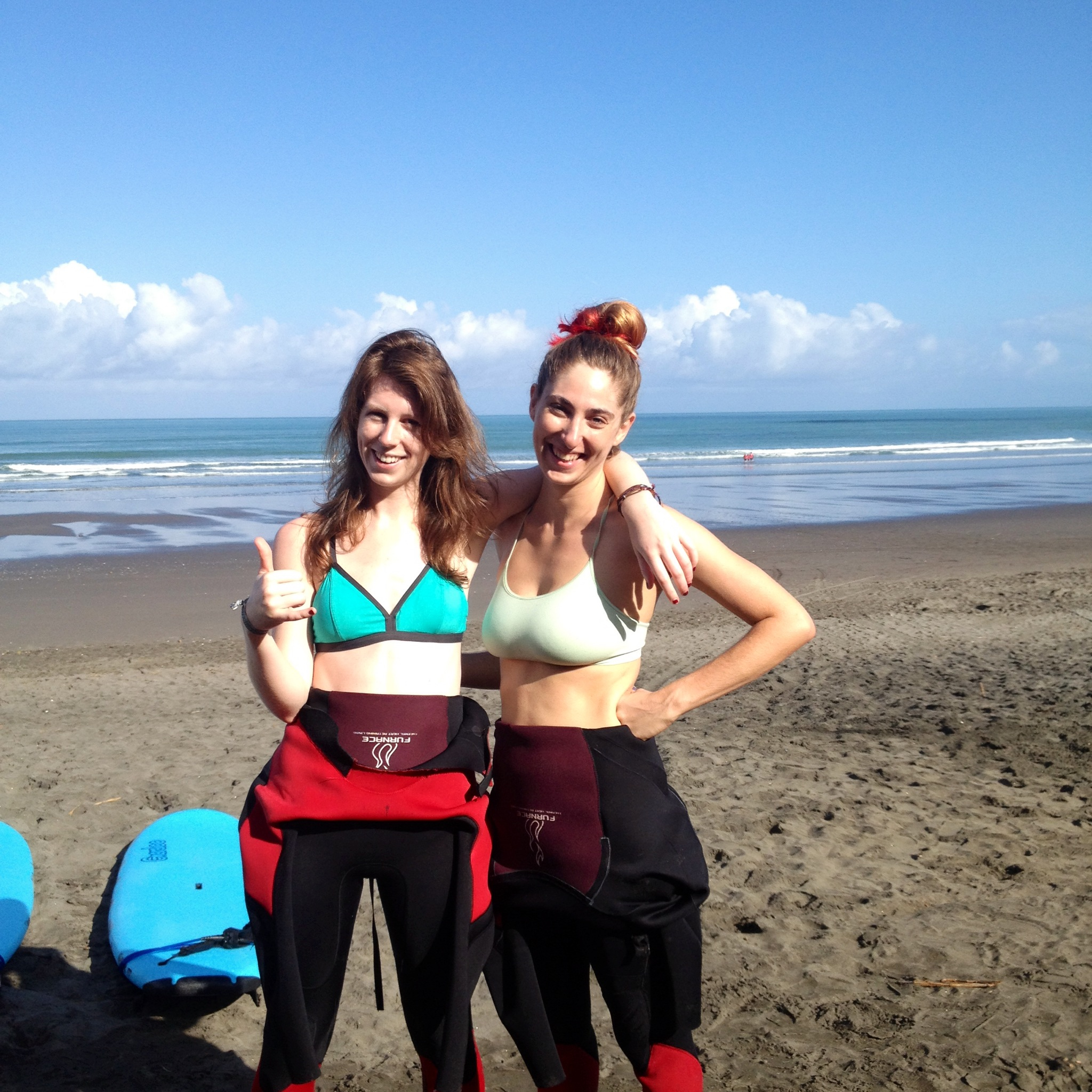 See those breakers in the distance? Yeah, we surfed those babies like champs.
Next stop: the Waitomo Caves. One of New Zealand's most popular attractions, the caves burrow over 200 feet into the earth, are home to millions of glowworms, and are the burial sites of many Maori chieftans. Our guide, Katie from Connecticut, expertly negotiated the pitch-black caverns and cheerfully led us down the icy cold cave rivers on inner tubes. (We don't have any pictures, sadly – no cameras (or GoPros!!) allowed in the caves.) It was early evening by the time we finished, and we had just enough time to drive halfway to Roturua and set up our first campsite before night fell.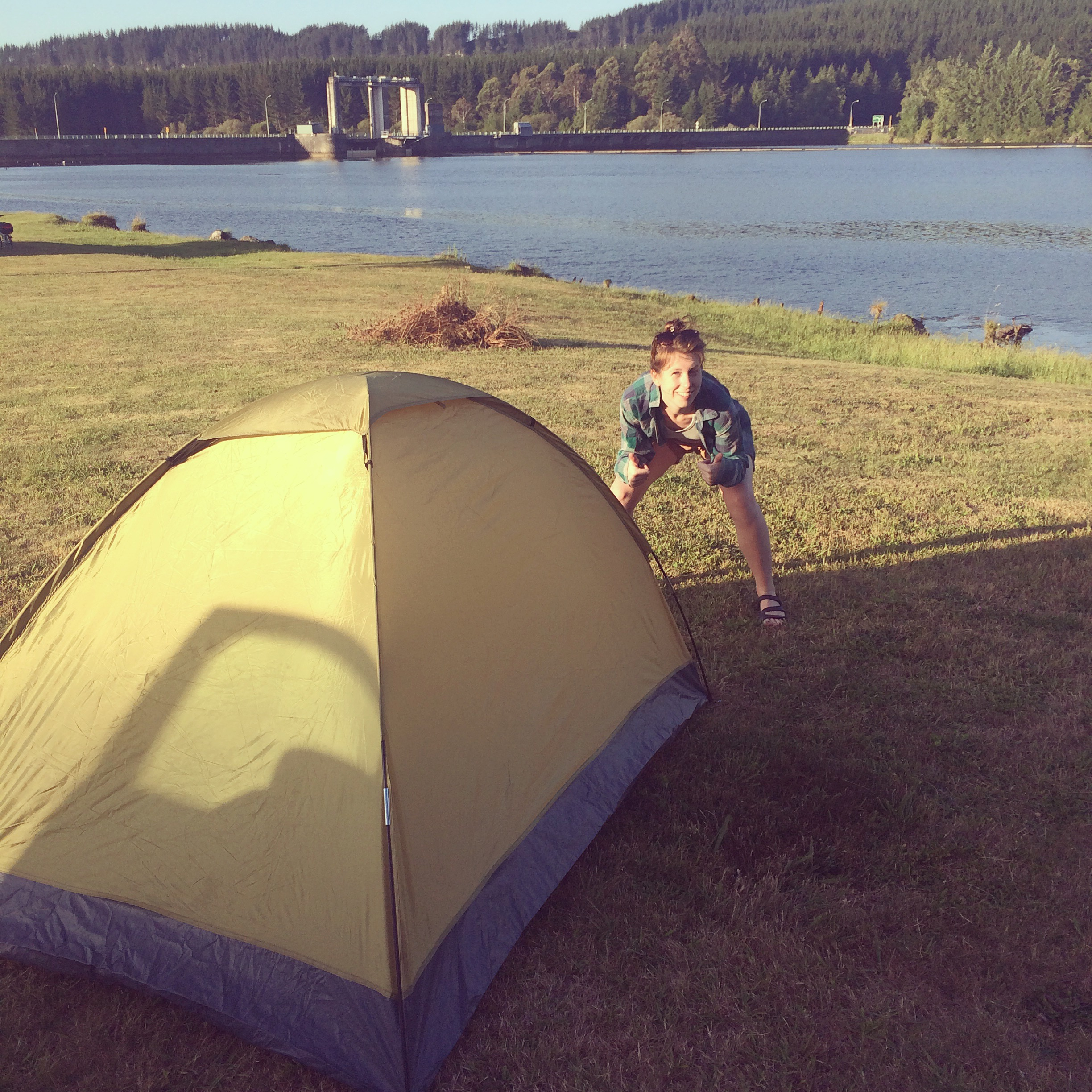 Our first campsite! Piece of cake!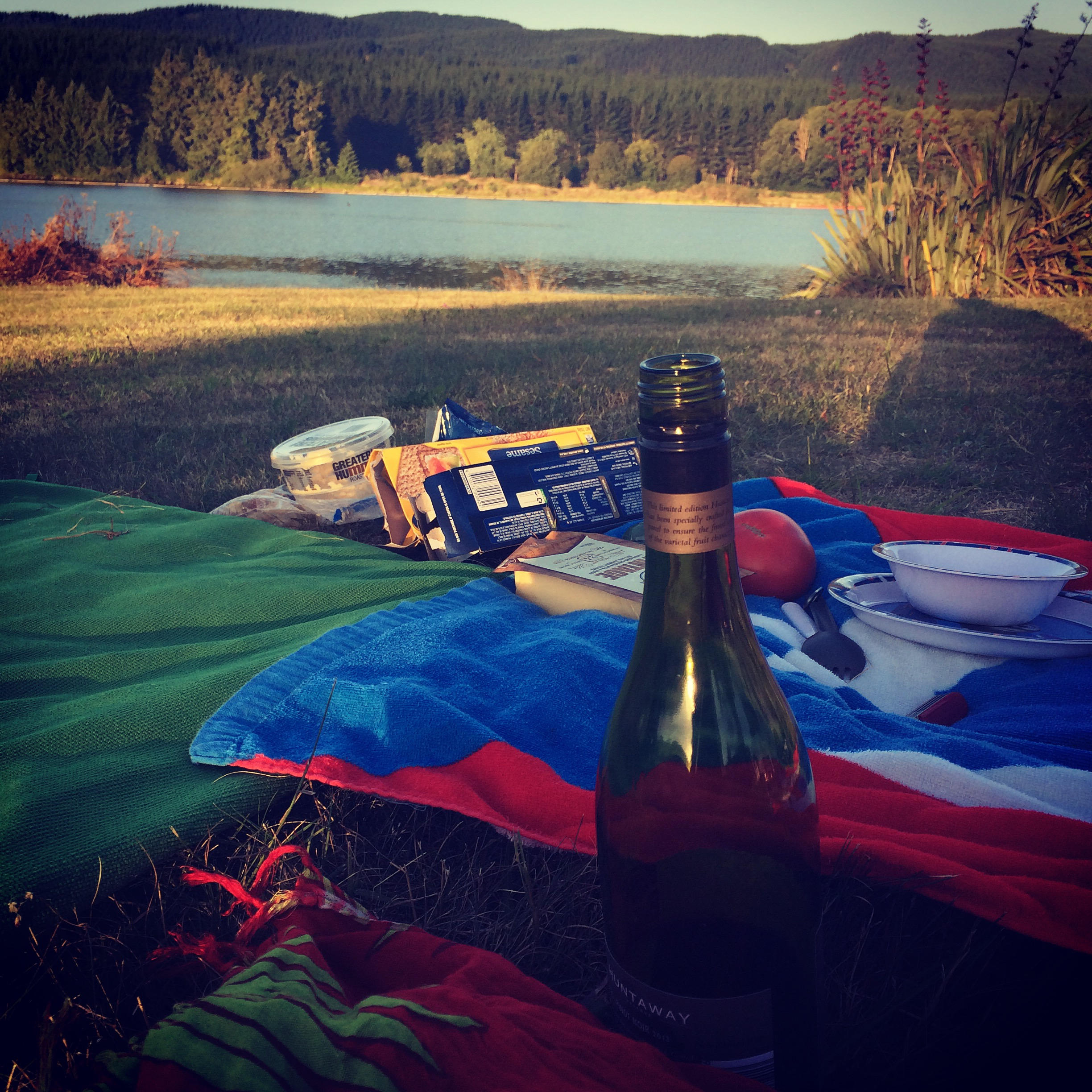 "Dinner."
Sunday, January 11: Woke up at the crack of dawn to find  the condensation levels in our cheapo tent reaching a critical limit. Pushed on heartily to  Roturua, a town in the Bay of Plenty region of the North Island known for it's geothermal activity.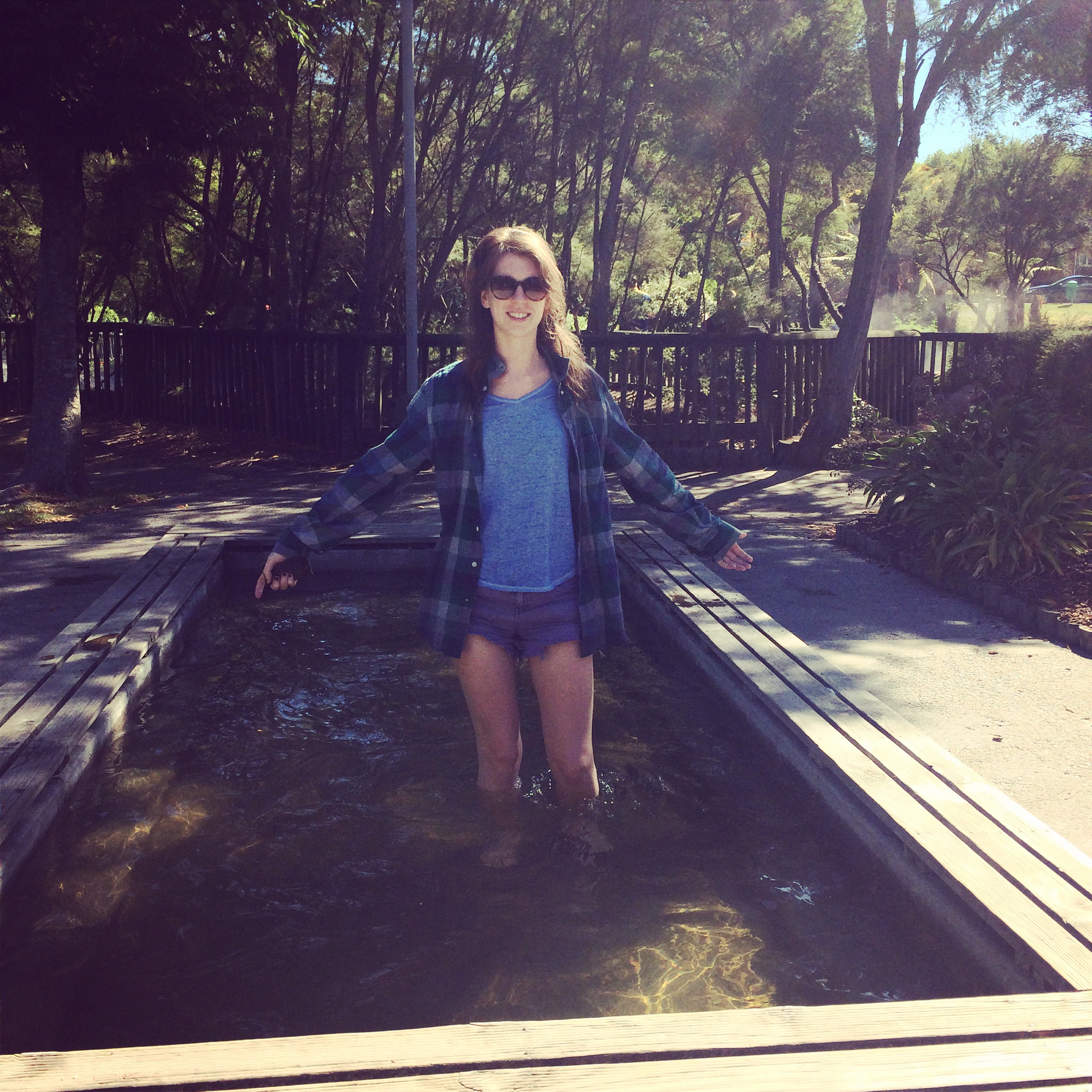 A natural pool in Kairui Park; the water must have been about 80 degrees (F).
Then it was off to try to find some hot springs we could really soak in, which we found in the Waiotapu National Reserve. We spent a leisurely hour pleasantly floating in a hidden little creek where hot sulphuric water meets a cool running stream, and we made some new Kiwi friends while we were at it. Then – back on the road! We zipped down to Taupo, to take our life into our hands and bungee jump (Phoebe) and Extreme swing (both of us).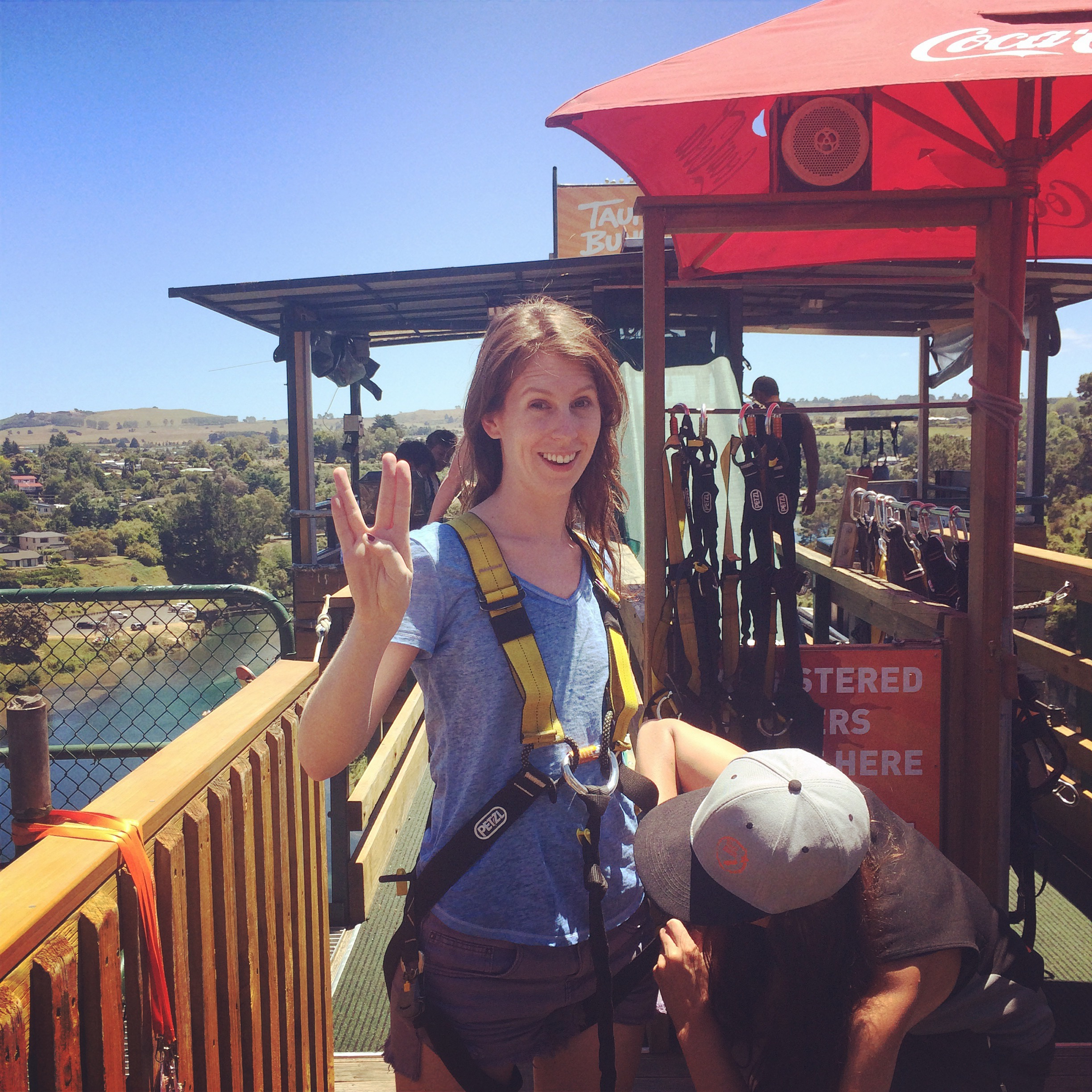 Can you see the terror in her eyes?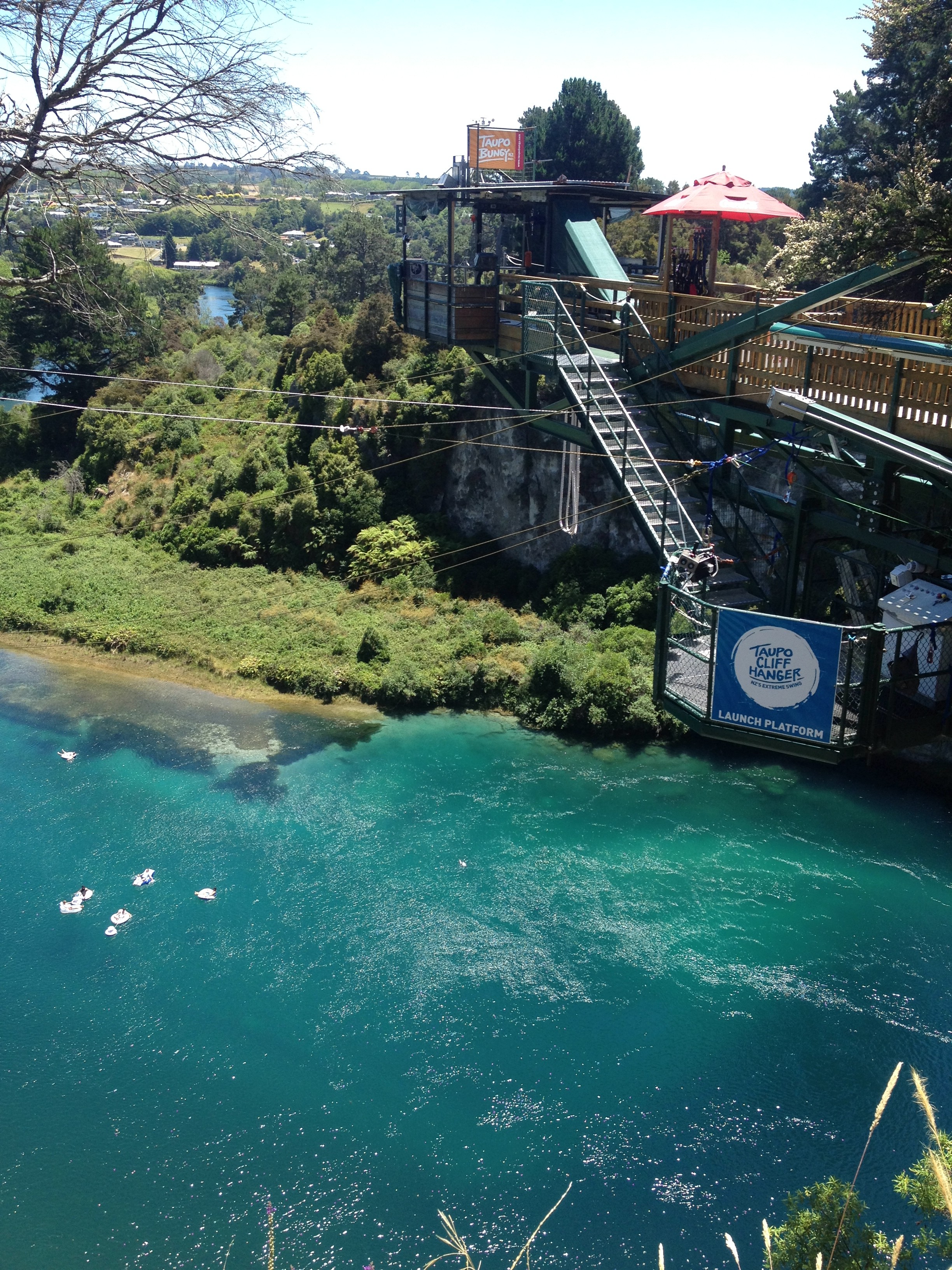 The view from the bungee.
It took a while for our heart rates to regulate, but when they did we got back in our trusty vehicle and drove around the gorgeous Lake Taupo, and set up our second campsite nestled among the mountains in Tongariro National Park.
Monday, January 12: Woke up in time to make the 5:35am shuttle from our campsite to the beginning of the Tongariro Alpine Crossing. There's nothing for it but to show you the pictures of the trek – it was one of the most exhilarating experiences either of us has ever had.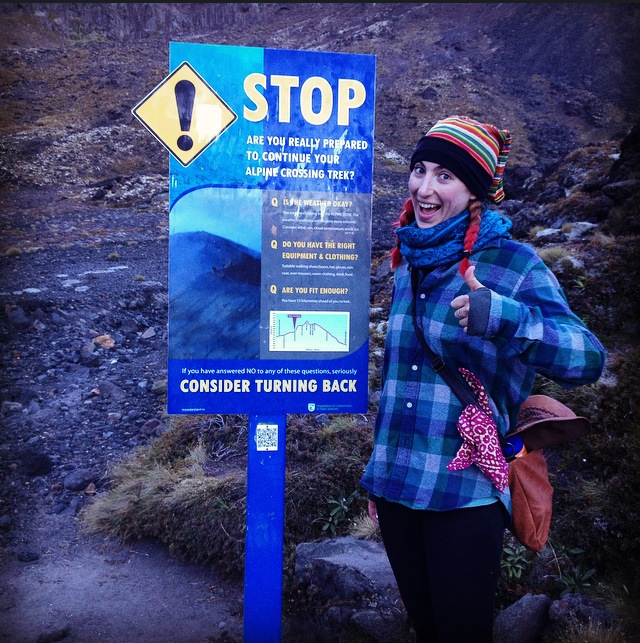 This sign advises hikers to "seriously consider turning back" if they are not properly prepared. But we laugh in the face of danger! Plus we had packed enough food to feed a small family for a week.
MOUNT DOOM!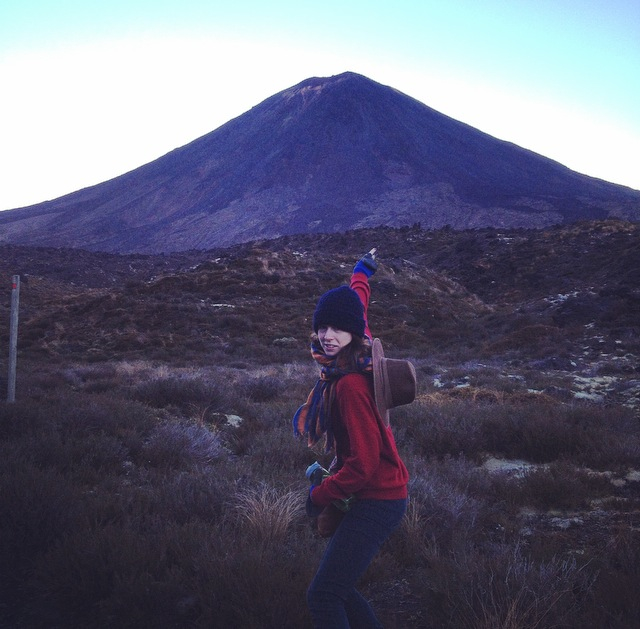 MOUNT DOOM AGAIN!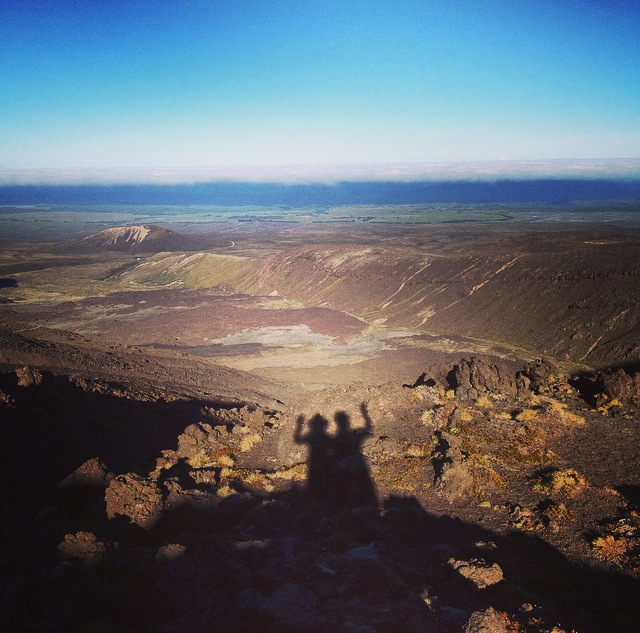 At this point we had just finished the first part of the ascent, from Soda Springs to the South Crater. You can see the clouds rolling in on the horizon; we stayed just ahead of them all morning.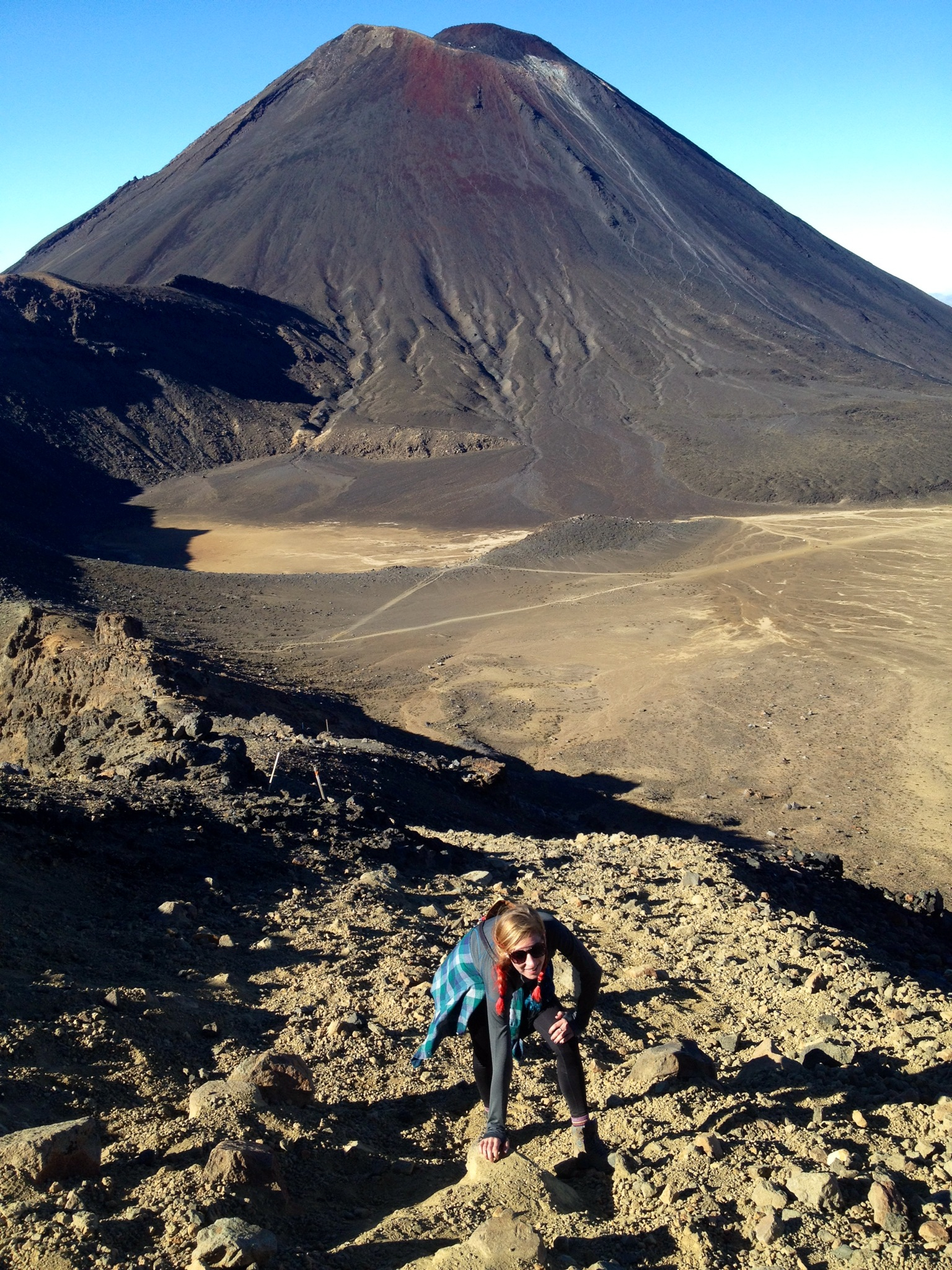 Ele climbing up to the Red Crater with Mount Doom (Mount Ngauruhoe in reality) behind her.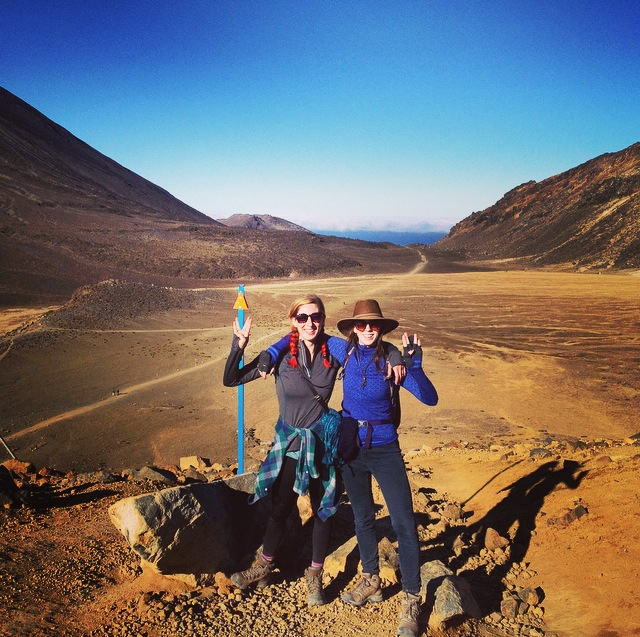 Live free and prosper!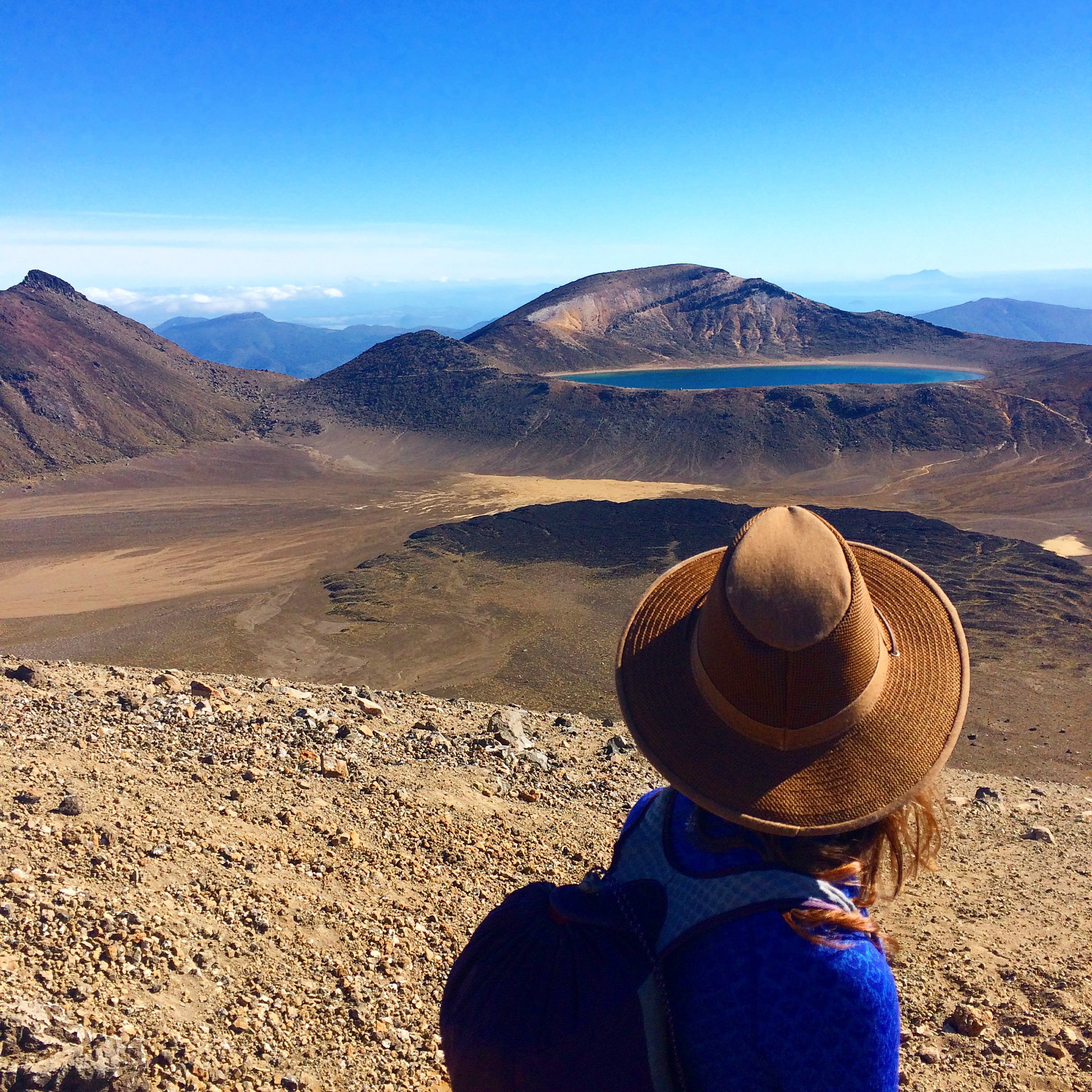 The view from the summit of the Red Crater, the highest point of Mount Tongariro.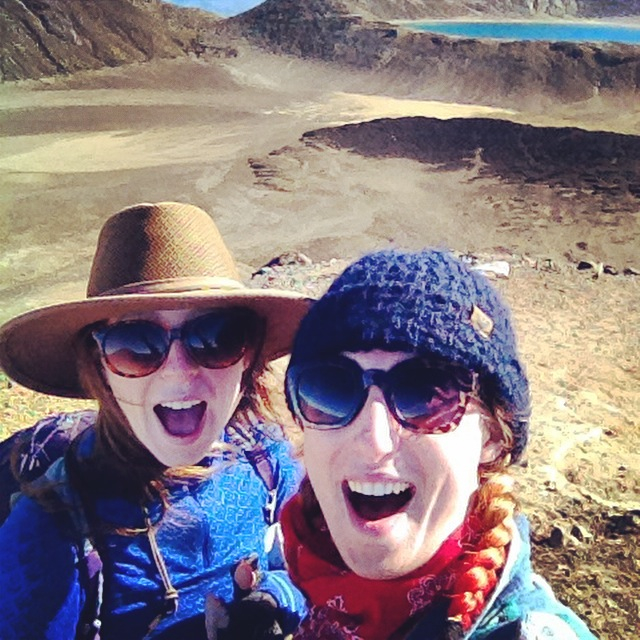 So relieved. So tired.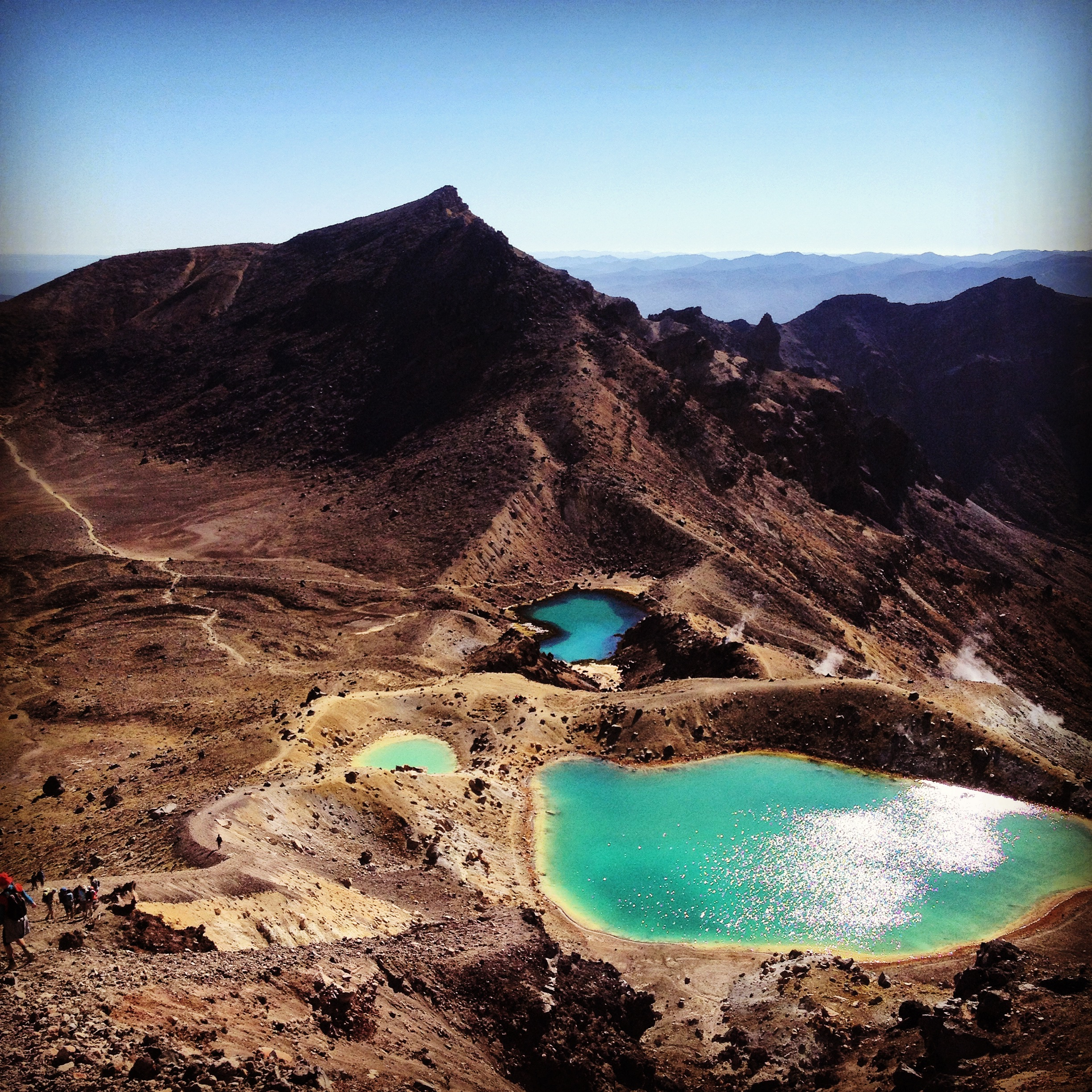 The Emerald Lakes, seen from the Red Crater. Sulfuric and poisonous, so no swimming for us.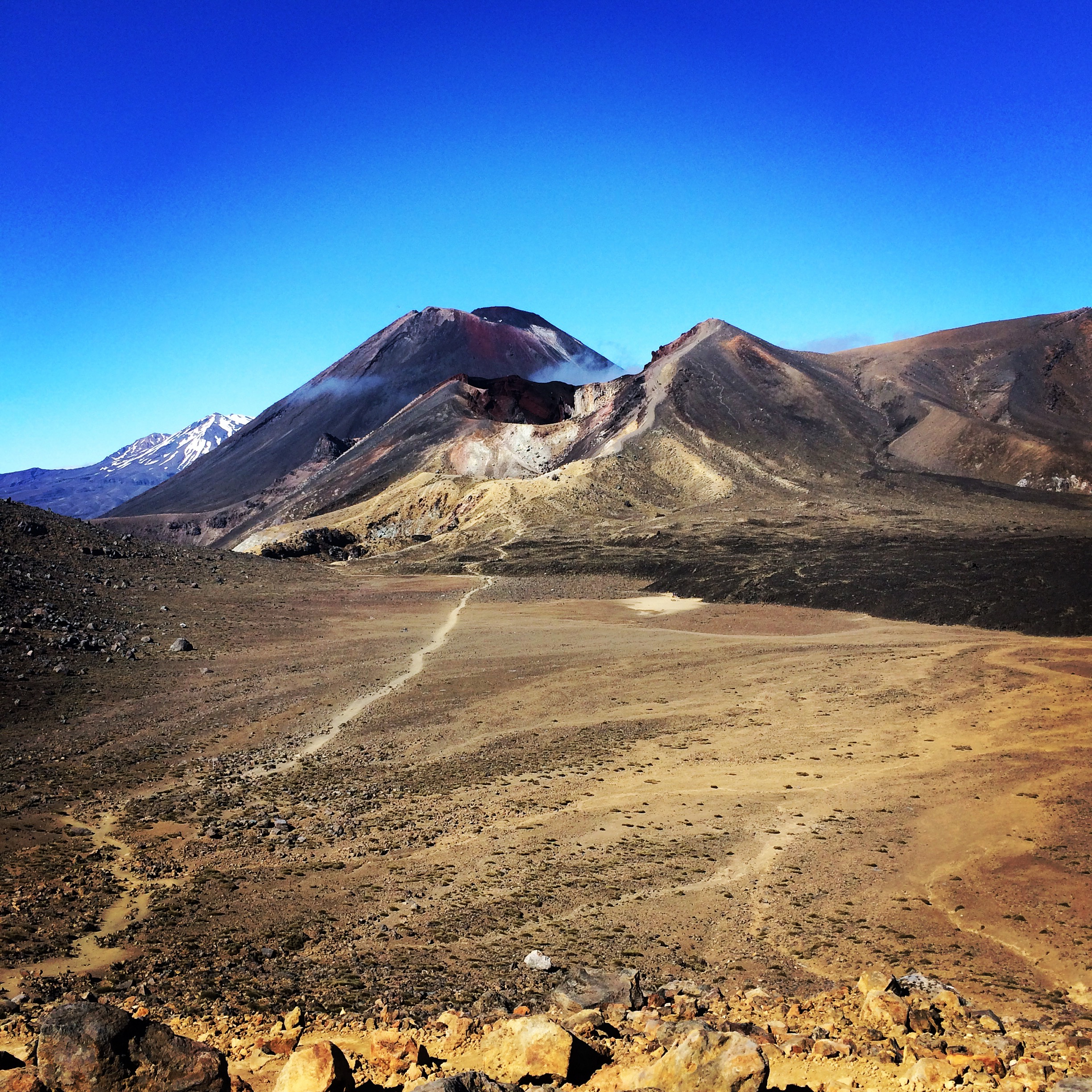 The Red Crater

Spotted: girl with GoPro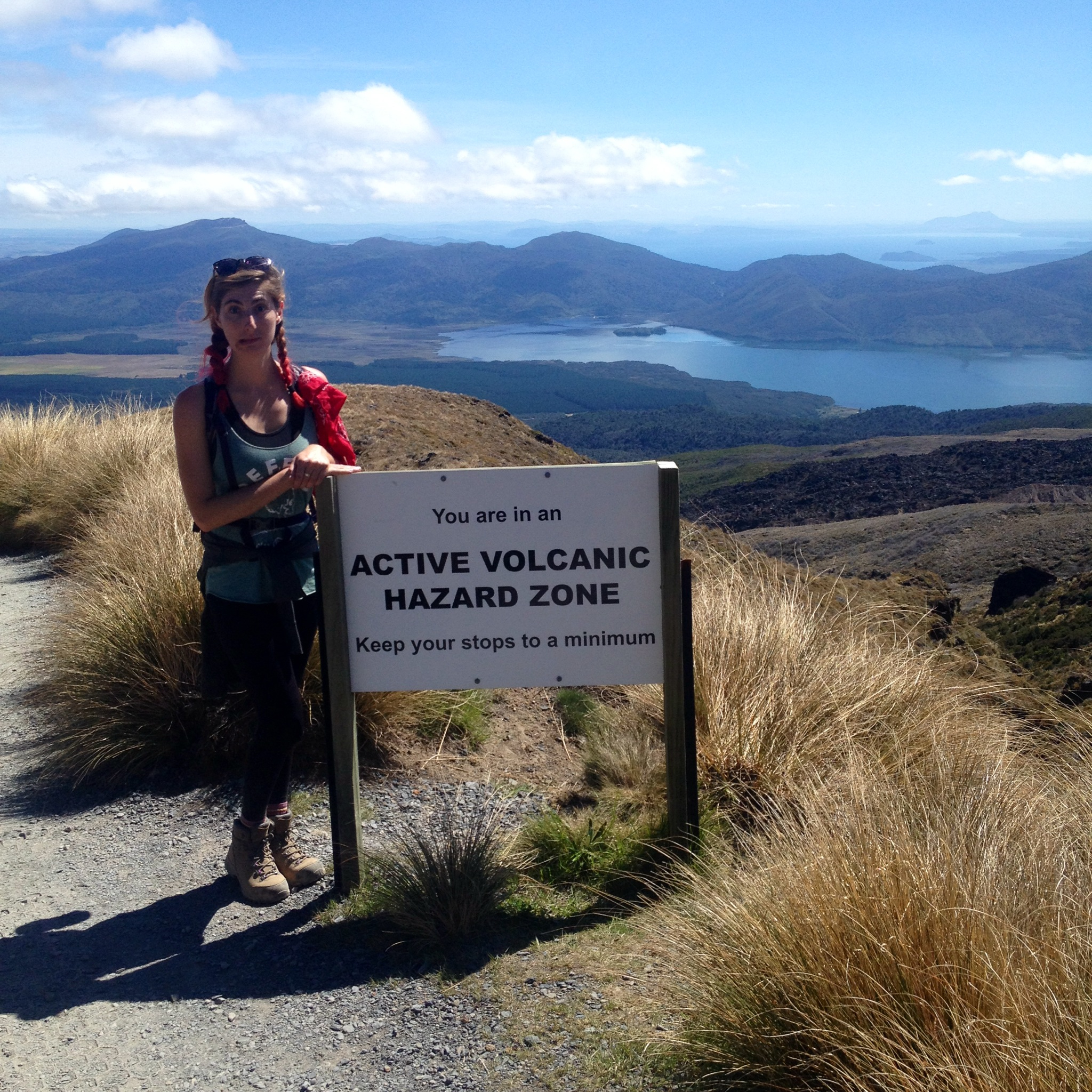 As you've probably guessed, the Tongariro Crossing is a major hub of volcanic activity. The Te Maari crater erupted as recently as 2012, and you can still see it spewing sulfuric gas from the Crossing.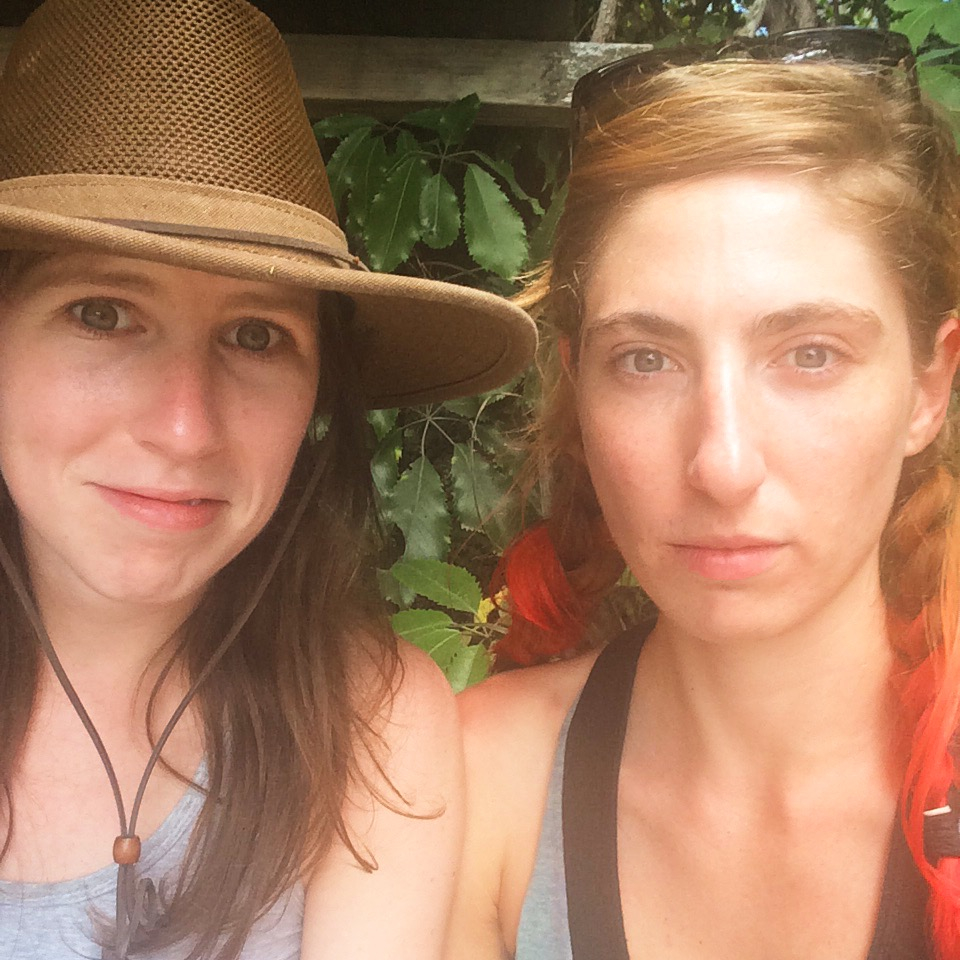 Seven hours later, exhausted but exhilerated, we were done.
We got back to our campsite around 1pm, packed up, and began the four hour drive to Wellington, where one of our new friends from the Rotorua hot springs (Joe) had offered to let us crash on his couch for the night. We arrived at dinner time to a lovely, cozy apartment up in the hills surrounding Wellington, which Joe shares with his two roommates – Brett, another native New Zealander, and Becky, a Brit from Northern England who's living in NZ for the year.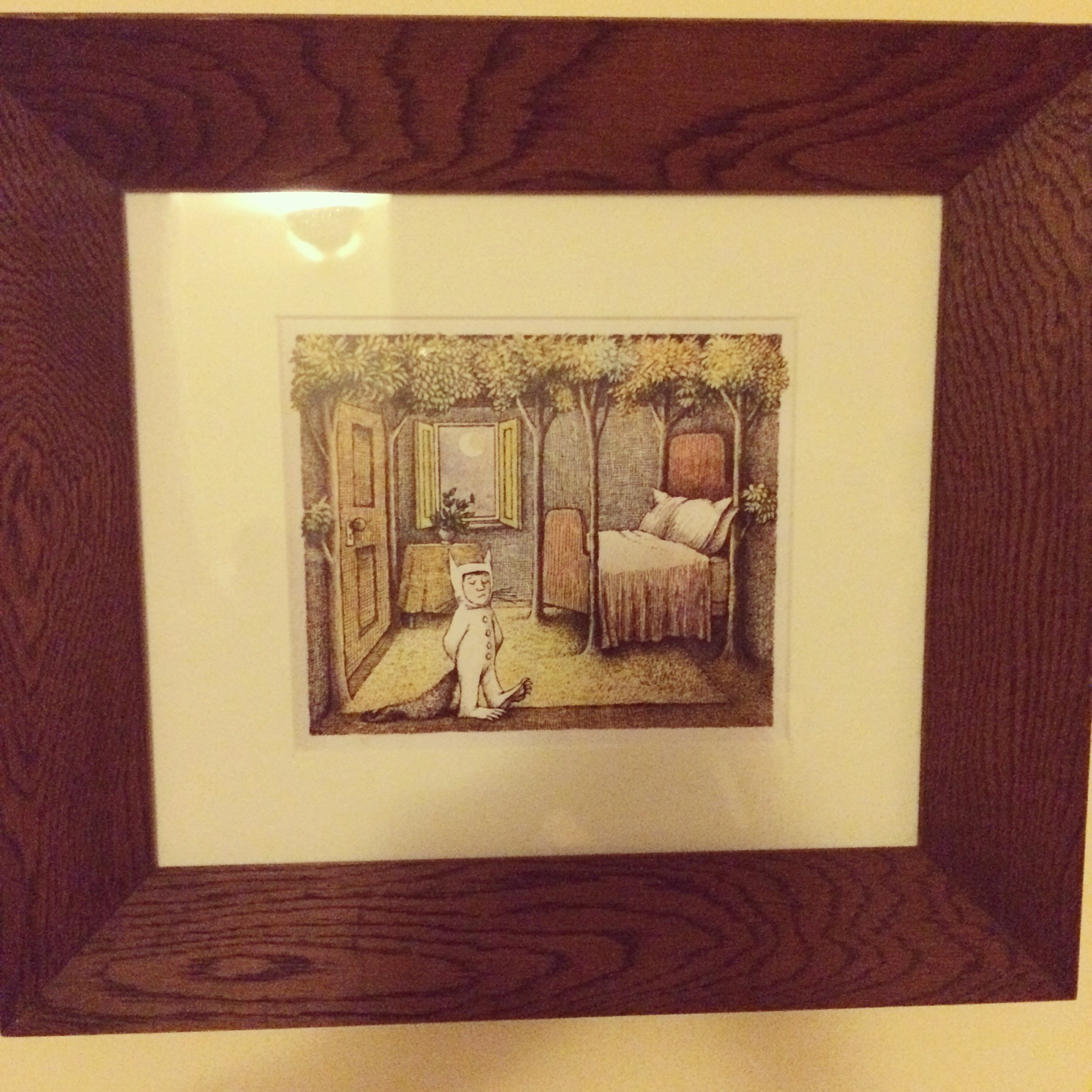 They had great art up all over their apartment.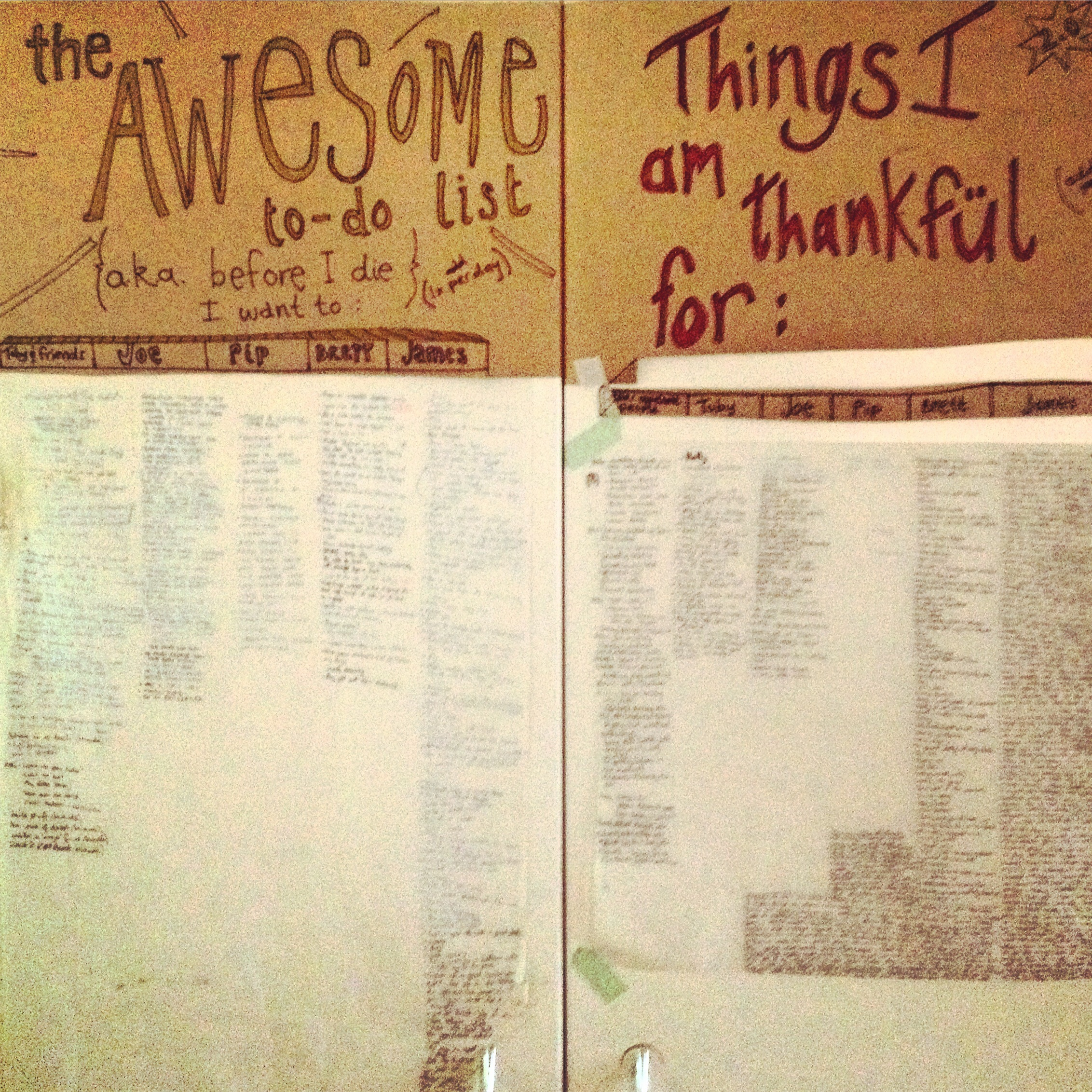 Including these lists, hanging in the kitchen, which encourage them to think about what they want to achieve and what they are thankful for. 
Tuesday, January 13: Woke up early (is this starting to sound familiar?) to catch our ferry from Wellington down to the South Island.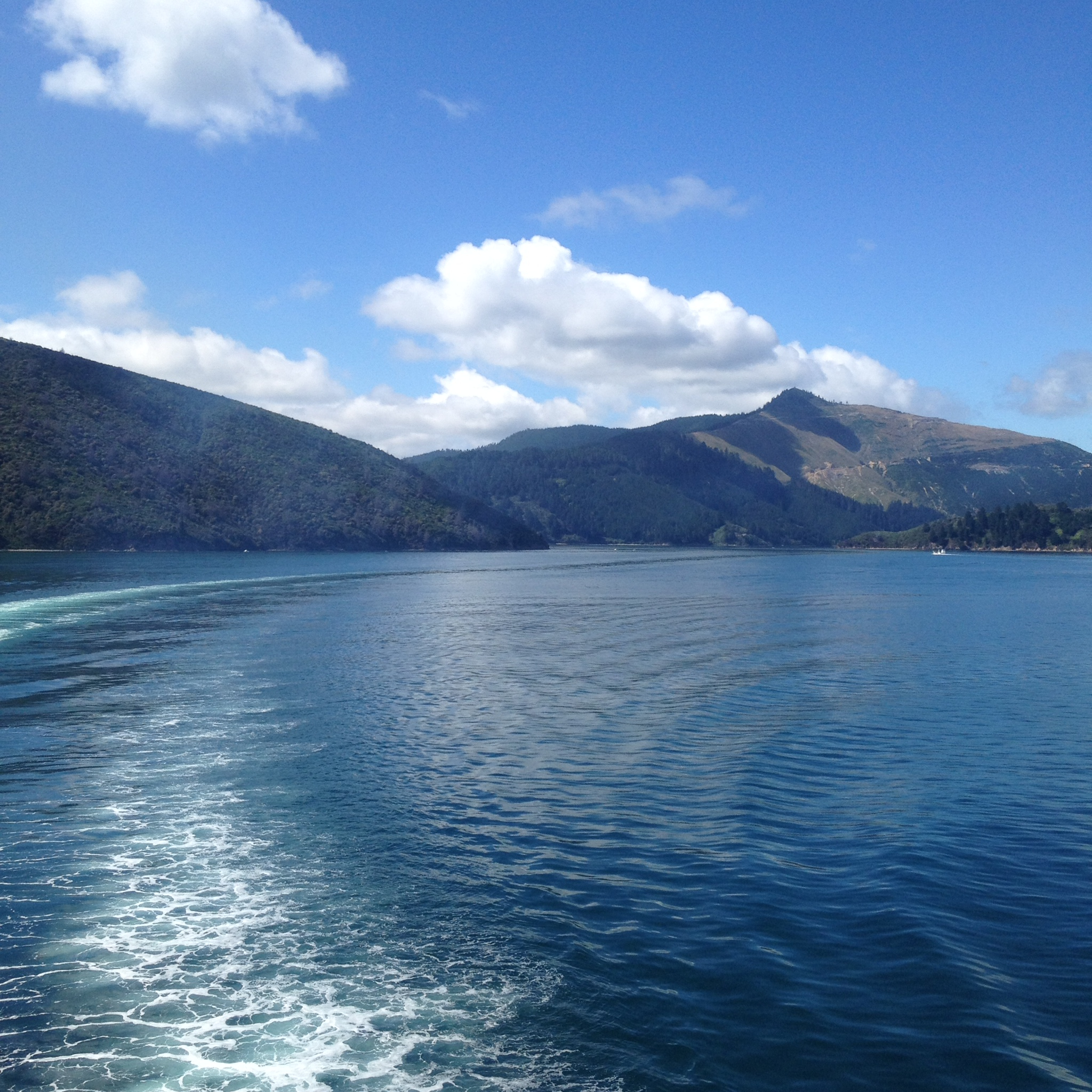 Cruising along the Cook Strait. 
Arrived in Picton around 11:30am, picked up our new rental car, and hightailed it down to Blenheim where many of New Zealand's world famous vineyards are located. We decided on a tasting at Cloudy Bay, which specializes in Sauvignon Blanc, Pinot Noir, and sparkling wines. All of our favorites, what a coincidence! Splurged on oysters and a cheese plate for lunch, a welcome change from our camping diet of baked beans and….well, cheese. Then we fell asleep in the sun for a little bit. Basically it was heaven.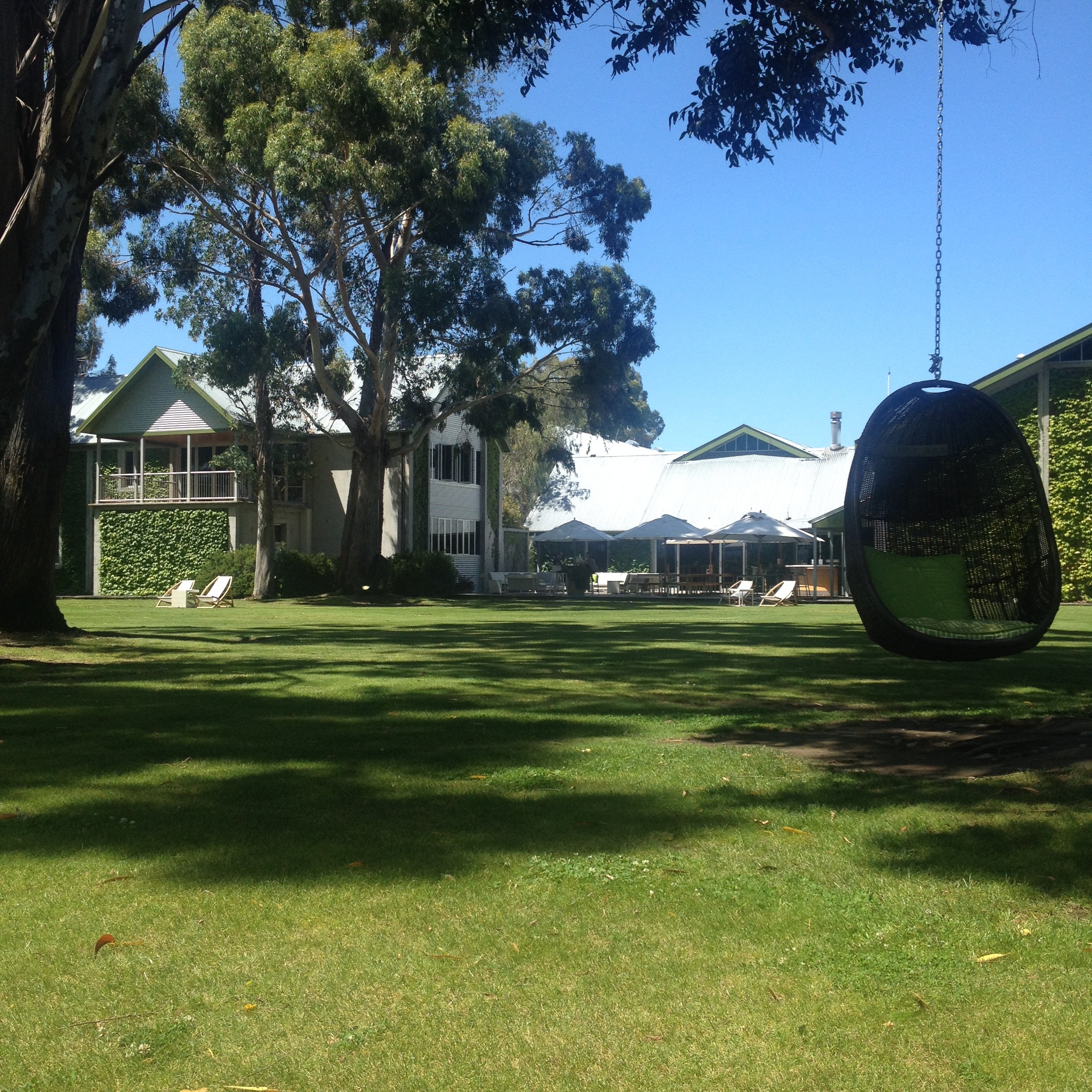 Cloudy Bay winery.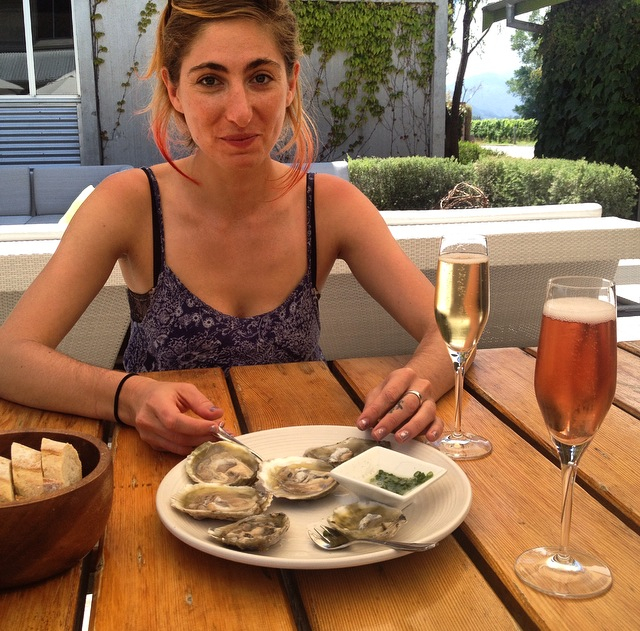 We were pretty happy to be eating real food.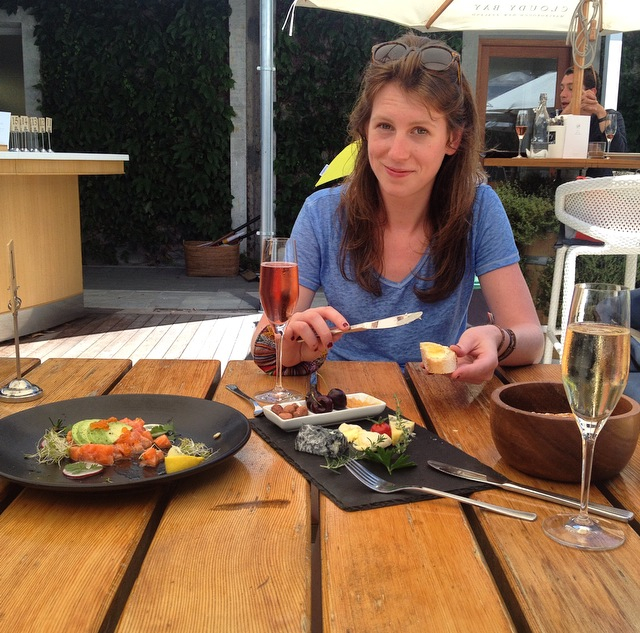 Really, really happy.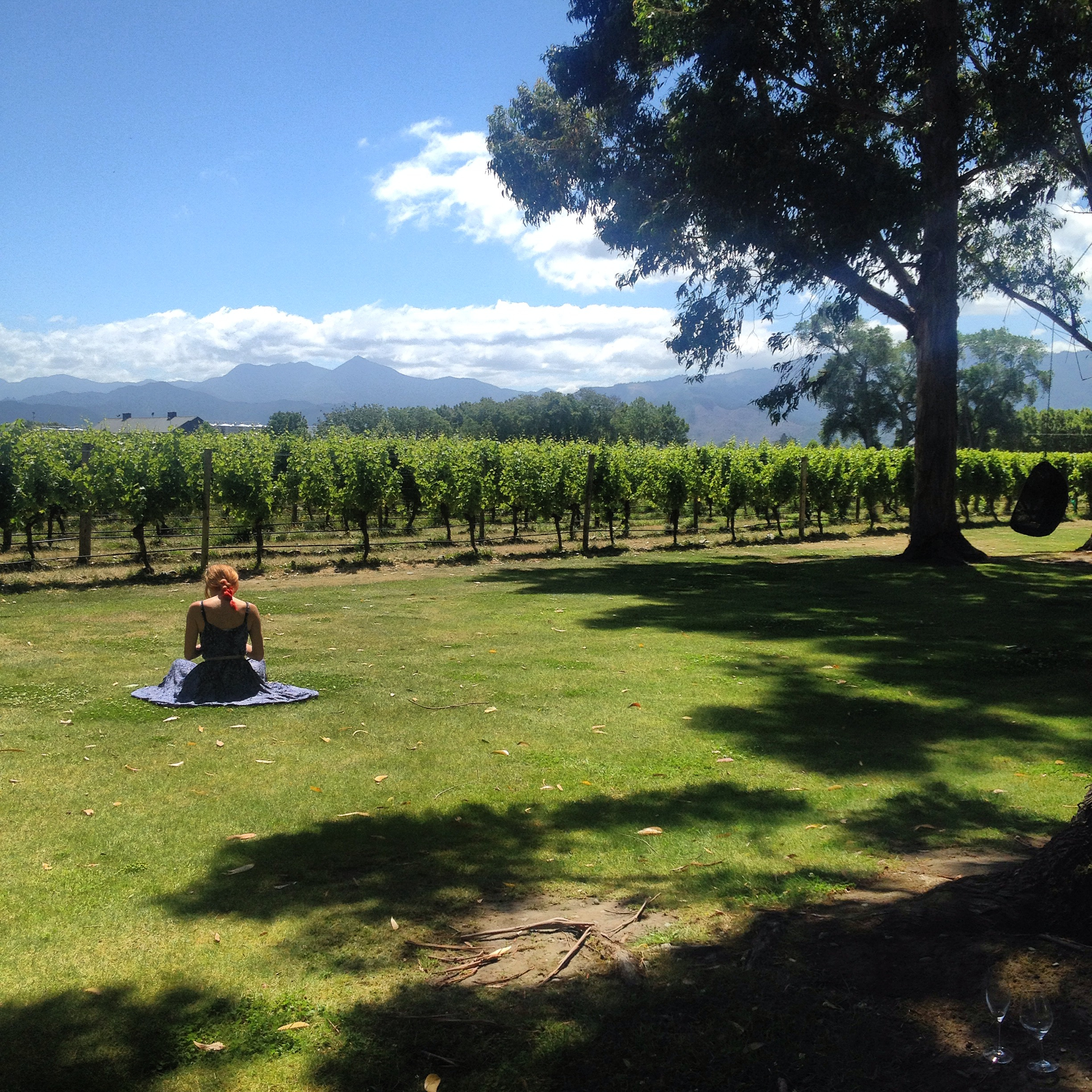 But no rest for the weary! Back to the car we went – but this is when things took a turn for the worst. First, Phoebe was pulled over for speeding, even though the road was not properly marked! We swear! The very nice Kiwi copper let us off with a warning, thank god (the ticket would have been 600 DOLLARS. NEW ZEALAND IS INSANE), but then it started to rain. And then when we got to Kaikoura, famous for it's crawfish, all the local stands were closed. And then we got to our beautiful campsite right on the beach and promptly got the car stuck in the sand. The many Europeans who crowded around were basically no help at all, but the people at reception said they could haul it out in the morning, so, fine. We set up camp right next to the car and tried to ignore the kids riding a zipline right past our back bumper. Went to "sleep."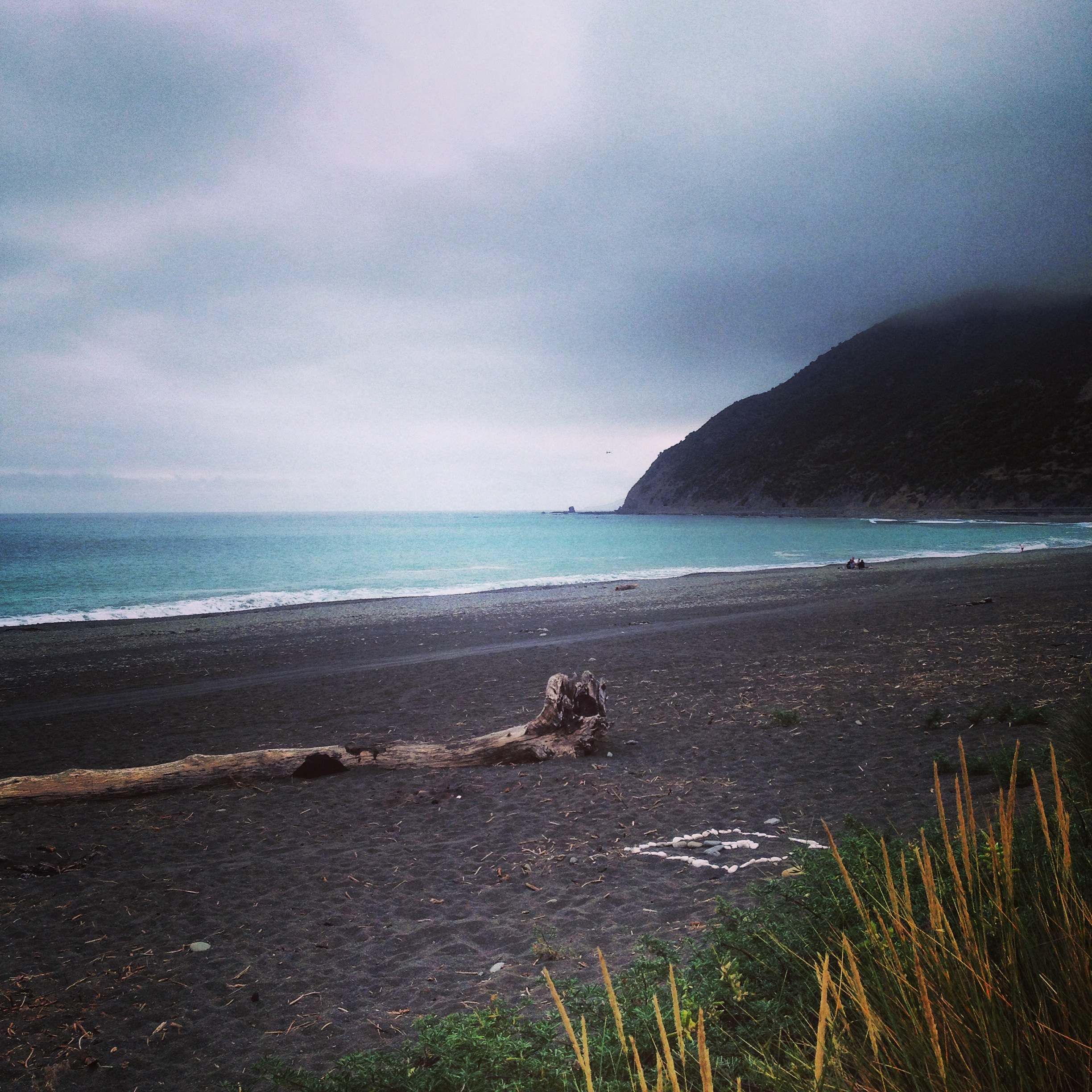 The view from our campsite at Kiakoura; beautiful despite the rain.
Wednesday, January 14: It was pouring rain when we woke up. Phoebe tried the zipline anyway, and almost broke her finger. No sign of the Kiwi's from reception, but we thankfully met a very kind man named Mark from Christchurch who was able to haul our car out with his four wheel drive, and then pointed out a school of dolphins feeding right off shore. Ele was delighted. So, crisis averted, and off we set on the last leg to Christchurch. But wait! When we were only five minutes away from dropping the car off at the G-ddamned Europcar the engine conked out, and the whole thing broke down. It was a devil car, we have now determined. But no matter! We persevered! We are rugged women! And we made it to our first work exchange in one piece, where we plan to relax HARD for a while. The end.